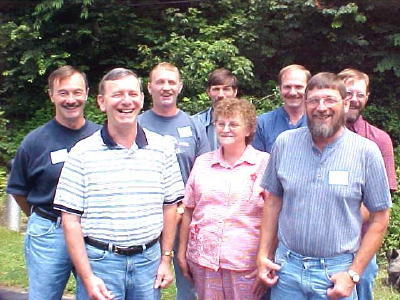 THE MOWREY FAMILY OF SUNNY CAL - (Front L-R) Glen, mother
Frankie, and Tom (Back L-R) Steve, Ken, Danny, Jim and Ron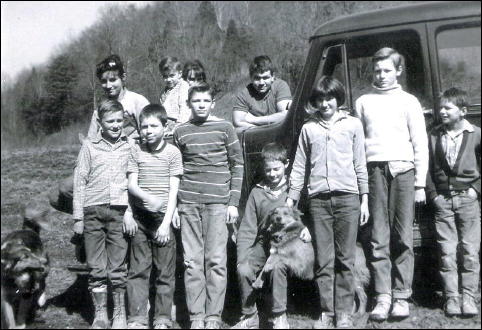 MOWREY BOYS ATTENDED CEDAR
GROVE ONE-ROOM SCHOOL (1960s)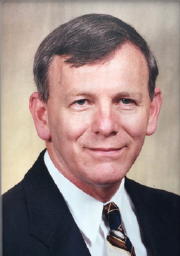 Philip "Glen" Mowrey, 72, died January 16, 2018, surrounded by his loving family at UNC Healthcare following a brief illness. Born on March 13, 1945, in Parkersburg, West Virginia, Glen was the son of the late Phil Mowrey and Frankie Mowrey of Spencer, West Virginia.
A proud West Virginia native, Glen grew up hunting, fishing, trapping, and ginsenging in his beloved home state. His expertise in West Virginia state history earned him the prestigious Golden Horseshoe award in 1960.
He graduated from Glenville State College in 1968 with a Bachelor of Science, going on to work for the Department of Highways, as a high school teacher, and as a small business owner in West Virginia. He moved to Carrboro, North Carolina with his family in 1991 and is retired from the Lineberger Cancer Center of Chapel Hill. He spent his later years studying and practicing natural healing, coin and stamp collecting, and supporting causes he believed in, including the preservation of the environment, social equality, and the sponsorship of international children.
He is survived by his mother, Frankie Mowrey of Spencer, WV; his wife of 47 years, Patricia Sullivan Mowrey of Graham, NC; his sons Matthew (Mandy) and Jeremy (Amanda) of Durham and Cary, NC.
Brothers Steve of Whipple, OH, Tom (Trish), James (Regina), and Dan (Ola) of Creston, WV, Ron (Norma) of Arnoldsburg, WV, and Richard (Scarlet) of Powells Point, NC; sister-in-law Wilma Mowrey of Creston, WV; honorary brother Ray Boggs (Shelia) of Mineral Wells, WV; brother-in-laws Tom Sullivan (Sandy) of Washington, WV; and James Sullivan of Smithville, WV; grandchildren Kellan and Stella Mowrey; as well as multiple beloved nieces and nephews, their spouses and children; his honorary grandchildren, Jenny Sunanamanee, Michael Delozier and Dakota Seitz to whom he was "Pappy;" and special friends Angie (Tim) Clapp, Thipparat (Rungthip) Sunanamanee, Wiriya (Armin) Just, Ryan (Catherine) Inghram and Edward Jordan. There are countless others whose lives he touched and friendships he cherished.
He is preceded in death by his father Phil Mowrey; brother Kenny Mowrey; father-in-law and mother-in-law Earl and Eileen Sullivan; and sister-in-law Colleen Sullivan.
A heartfelt thank you to the doctors, nurses, and staff at UNC's CICU who took such great care of our dear Glen.
A celebration of Life will be held at 2:00pm Wednesday, January 24, 2018 in the Chapel of Walker's Funeral Home, 120 W. Franklin Street, Chapel Hill, NC. Burial will follow in Chapel Hill Memorial Gardens. The family will receive visitors prior to the service starting at noon.
In lieu of flowers, the family asks that memorial contributions be made to Save the Children (http://www.savethechildren.org) or the Arbor Day Foundation (www.arborday.org), causes that were particularly close to Glen's heart.