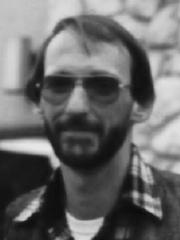 Jennings Terry Starcher, 65, of Ravenswood, West Virginia, departed this life on January 16, 2018 at his home following an extended illness.

Terry was born March 26, 1952 in Canton, Ohio, a son of the late Edwin Neil Starcher and Wilma McGraw Hughes. He was an avid bluegrass musician and could make the banjo sing, loved the outdoors, especially hunting and fishing and was a friend to everyone he met.

In addition to his parents, he was preceded in death by his wife, Kathy.

Terry is survived by his children, Jennings Neil Starcher of Charleston, West Virginia and Traci Evans and husband Kevin of Glenville, West Virginia; two granddaughters, Tara and Ashley Evans, also of Glenville; a sister, Tina Hughes of Atlanta, Georgia; a brother, Charles "Chuck" Hughes of Charleston; sisters-in-law, Terri Phillips and husband Rob of Newport News, Virginia and Carol Jones of Frankfort, Kentucky; nephew, David Harper and wife Kim of Newport News; special family friend, Randy Spragg of Fairmont, West Virginia; and numerous cousins who considered him a brother.

Service will be held at 1:00 pm on Sunday, January 21, 2018 at the Taylor-Vandale Funeral Home in Spencer, West Virginia. Burial will follow in the Otto Cemetery near Spencer. Visiting will be Saturday from 6:00 to 8:00 pm at the funeral home.