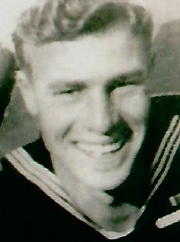 James B. "Bud" Spaur age 93 of Sand Fork, WV; departed this life suddenly on the afternoon of Monday, January 15, 2018 at his residence in Sand Fork. Born September 22, 1924 in Gilmer County, Bud is the son of the late Charles D. and Retha Gregory Spaur.

Bud was a graduate of Sand Fork High School, class of 1942. He is a United States Navy Veteran having served in World War II in the Pacific theatre. He served on the Navy Destroyer, U.S.S. Howarth .

Bud was the owner and operator of Spaur Brothers Contractors with over 60 years of experience in the construction industry. In his spare time, he enjoyed wood working, gardening, fishing, telling Navy stories, and spending time with family and friends.

Bud is a Baptist by faith and long term member of the Sand Fork Baptist Church.

On September 4, 1948 Bud was united in marriage to the love of his life, Maxine Murphy Spaur. They celebrated 63 years of marriage before her passing on April 16, 2012.

Surviving are 2 children, Dwanetta Martin of Sand Fork and Buddy Spaur of Parkersburg, and 4 grandchildren, Thomas Chapman and companion Shay Fields of Glenville, Emilie Martin of Glenville, Lee Spaur of Parkersburg, and Dorinda Morrison of Dallas, TX.

Also surviving are 4 siblings, Hilda, Agnes, Rexell, and Rondell, and 2 great-grandchildren, Hannah Morrison of Texas and Sophia Chapman of Glenville.

Along with his wife and parents, Bud is preceded in death by 3 siblings, Anita Delores, and Drexell.

A funeral service will be conducted at the Ellyson Mortuary, Inc 2 Vanhorn Drive, Glenville, WV at 2:00 pm Sunday January 21, 2018 with Pastor Bryan Groves officiating. Burial will follow in the Spaur Family Cemetery along Sand Fork Road with Full Military Honors provided by the United States Navy and the Lewis County Honor Guard. Friends will be received from 12-2 Sunday at the mortuary.

Ellyson Mortuary, Inc is honored to assist the family of James B. "Bud" Spaur with arrangements.