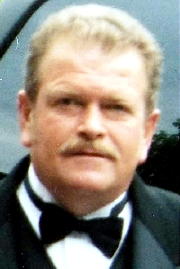 God has chosen the day January 13, 2018 to be the day he took his child Bobby Neil Hartshorn, 63, of Glenville home to be with him to begin his eternal life, with his loved ones by his side.

Bobby was born on January 5, 1955 to Oval Tom and Leone Fogle Hartshorn of Grantsville WV where he grew up and started his earthly life.

Bobby was a Christian by faith who loved the Lord.

He was married to the love of his life Anita Simmons on August 28, 1984 in Virginia Beach VA.

Bobby was an avid hunter and fisherman winning many fishing trophies throughout his short life.

He enjoyed his family and friends but got special joy in his grandchildren and was always there when someone needed him.

He is survived by his loving wife Anita (Simmons) Hartshorn who resides at their Glenville home.

He is also survived by his children: daughters, Melissa (Marvin) Hardy of Brodhead, WI, Angie (Marc) Taylor of Tuckerton, NJ, and son Phillip Hartshorn of Port Byron, IL; his sister Anita Vannoy of Russet, WV; 8 grandchildren Shonna, Alyssa Ann, Rebecca, Alyssa Lynn, Macie, Joseph, Aubrey, Madison, and 2 great grandchildren Ava and Ryu.

He is also survived by 3 nieces Sherry Bailey, Johnna Laughlin, and Brenda Roberts; 1 nephew and many friends that will miss him dearly.

He will forever be missed by all those who loved and knew him.

Along with his parents, Bobby was preceded in death by 3 brothers, Ronnie, Donnie, and Ricky Hartshorn and his sister Janet Hopkins, mother-in-law Ethel Simmons; brothers-in-law, Raymond, Gary and Nelson Simmons.

A funeral service will be conducted at the Ellyson Mortuary, Inc; 2 Vanhorn Drive, Glenville, WV at 11:00 am, Thursday, January 18, 2018 with Rev. Alfred Hickman and Rev. Ronzel Roberts officiating. Burial will follow in the Meadow Lane Cemetery near Glenville. Friends will be received from 5-8 pm Wednesday evening at the mortuary.

Ellyson Mortuary Inc. is honored to assist the family of Bobby Neil Hartshorn with arrangements.