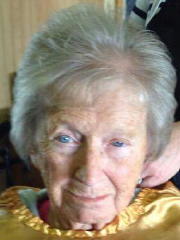 Mary Helen (Somerville) Townsend, 84, of Elizabeth, WV went to be with her Lord and Savior, January 11, 2018 at The Arbors at Marietta.

She was born March 10, 1933 to Civy Pearl and Edith Pearl (Miller) Somerville, on Somerville's Fork in Wirt County.

Mary Helen, also known as "Buck" and "Mary Hey," was a member of the Elizabeth United Methodist Church, Esther Circle, United Methodist Women and 4-H All-Stars. She was a 1951 graduate of Wirt County High School, and Glenville State College where she received her Board of Regents Degree in 1989. She taught Business at Wirt County High School before being employed by the Bureau of Public Debt from 1957 to 1989. After her retirement she worked at the Dora B. Woodyard Memorial Library.

Mary Helen served many positions in her church and was a Sunday School Teacher. She trained to become an EMT and volunteered for the Wirt County Emergency Squad from its onset in 1975 to 1987. She also was a volunteer 4-H leader for many years and served as President of the Wirt County 4-H Leaders Association. She was the first Bureau of Public Debt employee from Parkersburg to receive the Patrick J. Mulligan Service Award in 1987. She also volunteered at the Wirt County Ministerial Alliance Hope Shop for several years.

She was known for her kind heart and service to others. It has been said by many that they remember driving down Juliana Street in the early morning, seeing her cleaning the street. One of the many things she will be remembered for in her community.

Mary Helen is survived by daughter, Colleen (Townsend) Meeks; granddaughter, Jasmine Anderson; great grandchildren, Taylor and Casten Anderson; sister, Lenora Coartney; brother, C. Paul (Loretta) Somerville; brother-in-law, George Morehead; sister-in-law, Evelyn (Townsend) Waggoner; many nieces, nephews and cousins. She was preceded in death by her parents; husband, William (Bill) Townsend; son, Jon Townsend; son-in-law, Ben Meeks; brothers, Roy Somerville and Donald (Jim) Somerville; sisters, Wanda Mae Hartley, Freda Morehead and Emma Lea Burdette.

Visitation will be 10:00 am, Monday, January 15, 2018 until the time of the service at 2:30 at the Matheny-Whited Funeral Home, Elizabeth with the Rev. Dr. Paul Russell and Rev. Craig Blankenship officiating. Interment will be in the K of P Cemetery in Elizabeth.

The family would like to thank caregivers Yvonne Mason, Brandy Nichols, Lisa Cleghon, Lisa Koon and Sharon Hutchinson along with the staffs at Eagle Point and the Arbors at Marietta for the love and care shown for Mary Helen.

In lieu of flowers, it is asked that donations be made to the Alzheimer's Association 1218 Market St, Parkersburg, WV 26101 in her memory.