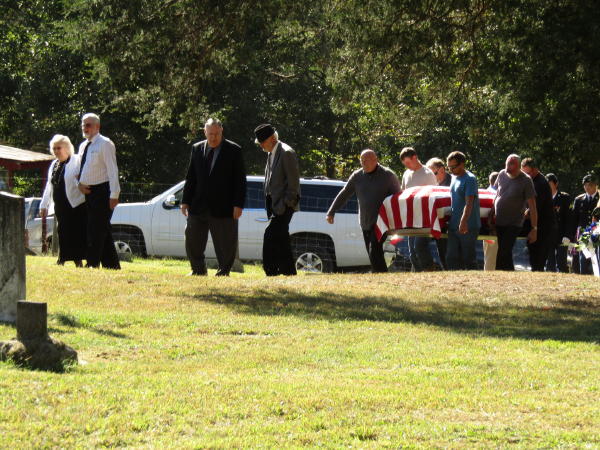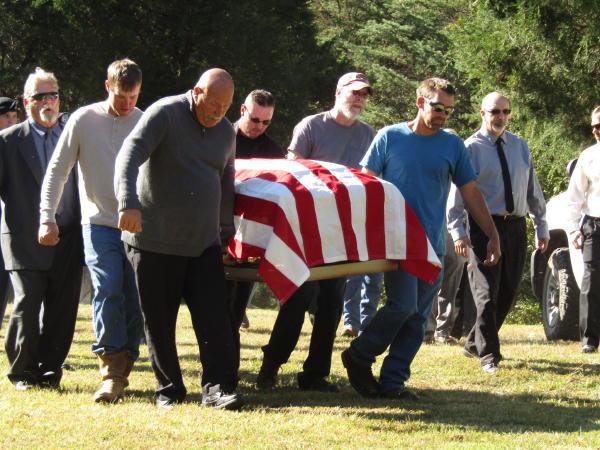 Boyd Duskey being returned to the sod of Wright Cemetery
By Bob Weaver 2017
90-year-old World War II veteran Boyd Duskey was laid to rest down along the lower West Fork of the Little Kanawha, one of over 1,700 Calhoun boys and men that fought in that great war, with only a few now remaining as the last men standing.
Tiny Calhoun County had among the highest numbers per capita of soldiers in that great war.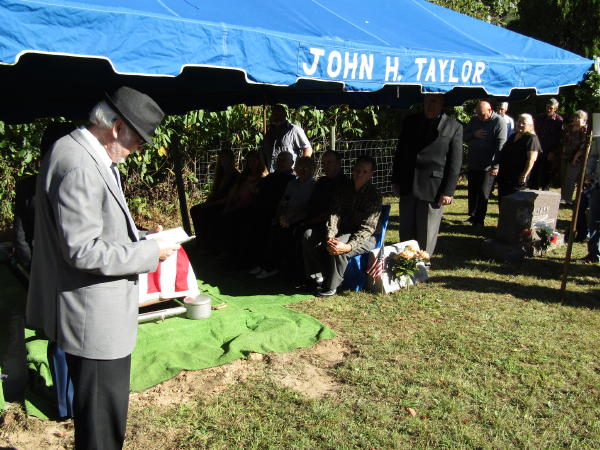 Rev. Delmas Stutler tells Duskey's favorite stories
Sgt. Duskey went off to the war in France from the backwoods of Cunningham Ridge near the former post offices of Cremo and Donze, having his first exposure to a bigger world beyond what the eye could see.
In that war alone, 52 Calhouners gave their lives so that the world would be free of people like Hitler, Mussolini and Tojo.
It was in that remote place he was churched at the Cedar Grove Church, a place to which he returned years later after working in Ohio, a place where the Christian man lit the fire and turned on the lights to try to keep it going in a time with fading church attendance.
The Cremo Community Church filled with people standing in the road, an event reminiscent of earlier times when everyone took the time to attend funerals.
The ministers recalled Duskey's life and times, a devoted family man and community servant who loved the quiet life along the West Fork.
Rev. Delmas Stutler recalled one of Duskey's oft told stories about his great-grandfather Confederate George Duskey, who lived nearby at Duskey Falls.
"Here in the Wright Cemetery is buried Civil War fores side-by-side. Pvt. George Wilson, a Rebel friend of George Duskey, and Col. C. W. Feathers, a Union soldier, both shot to death by their opponents and hauled to the cemetery by sled in 1861," said Stutler.
Calhoun citizens of all the great wars rest in the cemetery, now joining them is Sgt. Duskey.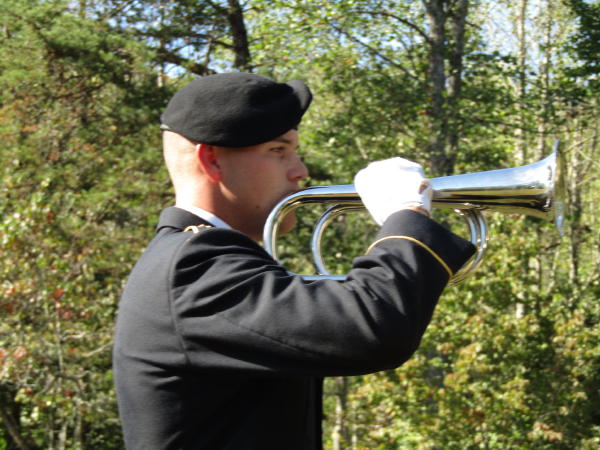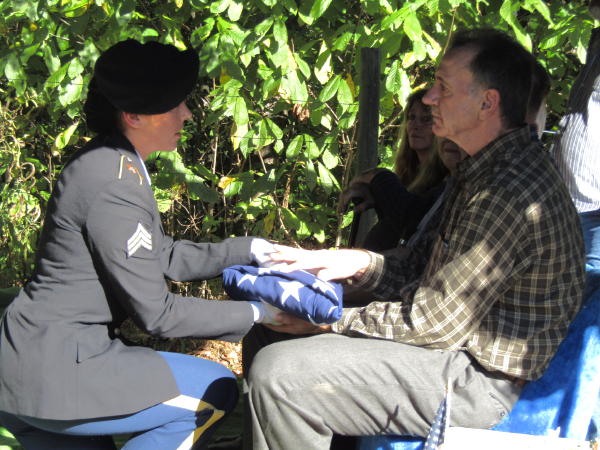 Duskey is honored with a last call echoing over
the hills and a presentation of the flag to family
See BOYD DUSKEY (1927-2017) PASSES: RECALLED EARLY LIFE ALONG LOWER WEST FORK - Civil War Foes Buried Side By Side, "Duskey Falls" Infamous Daniel Duskey Homeplace