Pine Creeker David Kirby stands on the highest of three Native
American burial mounds that rest deep in the Pine Creek woods
By Bob Weaver 2017
On a hillside deep in the Pine Creek woods, not far from the Village of Hur, there are three Native American burial mounds, noted by early Calhouners from the 1800s.
The largest mound is about 15 feet high and about 35 feet in diameter, with two nearly touching mounds of smaller size. Several other burial mounds have been recorded in Calhoun, mostly along the lower West Fork of the Little Kanawha River.
Former Pine Creek resident David Kirby said his father heard about the mounds from old-timers. "They are obviously man made," Kirby said. Being in high school over 60 years ago, I walked to the mounds after hearing the old tale.
Now, for the first time, they have been photographed, noting that their distinction was muted by the tangled forest.
Following the Little Kanawha River river from the Ohio Valley, the area was a rich hunting ground for a thousand years, with numerous Native American artifacts found in the county during the 19th and 20th centuries.
The late Ernest Kelley, Mt. Zion resident and teacher, likely had the greatest single collection of Native American artifacts from the Calhoun sod, axe and spearheads to bowls and arrowheads. His family inherited the collection and it is long gone.
Calhoun resident Ralph Carpenter has preserved a burial mound in the middle of his garden plot.
RALPH CARPENTER HOLDS SACRED HIS NATIVE AMERICAN BURIAL MOUND - Calhoun Man Clings To Earth
"I don't believe in disturbing the mounds," Carpenter said, "People have come along and wanted to dig this one open, and I've declined." He carefully gardened around the mound.
"I told one guy if he would let me dig up his mother to see what she looked like, I'd let him open this one," Carpenter said.
"He declined," Carpenter added.
On the Right fork of Steer Creek on the Fetty Farm, about four or five miles from the mouth, is a group of three or four mounds. They are similar in shape, the typical circular base and round top, and range in size from about fifteen to sixty feet in diameter.
They are believed to be the tombs of the earliest humans to cross the area.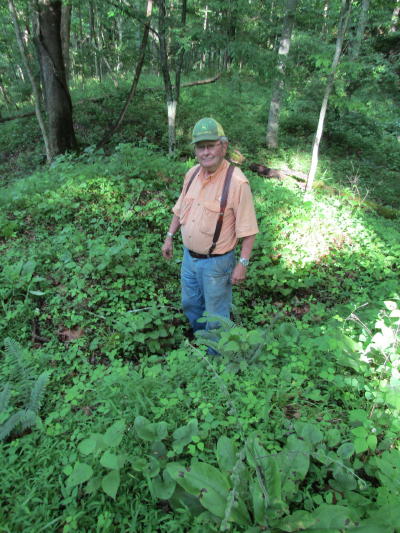 David Kirby stands in a hole dug in the second mound
by some curious person over a half-century ago,
likely unaware of bad karma disturbing burial sites
One of the Gilmer mounds was opened in 1938, about forty feet across, and five or six feet high. Rocks were set on edge around a circle, in the center were found large, flat sandstones making a level base about ten feet across and twelve to fourteen feet long.
It was unusual that these stones should be sand rock since there was no more of this kind of stone near there. On these stones were pieces of charcoal and some small pieces of bones as the evidence that the bodies had been burned.
On each side of the sandstone base were three holes about two feet deep, which would indicate that supports had been set around the base. These may have formed a crude building or covering for the bodies. Another mound about a mile up Steer Creek on the Blackshire Farm was found evidence that two large men lay side by side. A pipe and some arrow heads were found in the mound.
The burial mounds are likely the most historic sites in the region, but most go unrecognized by 21st Century residents.