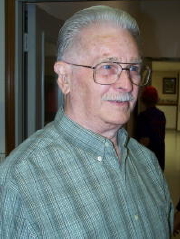 Perhaps one of the most often submitted names for a Shining Star is Grantsville's Pete Trippett, who died in April 2017.

Billy "Pete" Trippett, a Chief Petty Officer, was a 21-year Navy veteran of Korea, Vietnam and the Cold War, and for nearly 25 years was the stalwart volunteer keeping the First Baptist Church Calhoun Food Pantry up and running.

"He comes out at all times to serve the hungry...He never complains, just quietly goes about our Father's work...He also does many small and large jobs around the church that no one sees, but God," said one writer.
Pete shown honoring Calhoun veterans
"He probably doesn't expect thanks here, because of the rewards that wait for him in Heaven, but he deserves a Shining Star, because he is one."
In 2006 he told the Hur Herald about the changing face of food poverty, saying "Now, there's a lot of people we've never seen, the working poor, visiting the pantry," after which the Herald did an annual fundraising for the pantry, sometimes raising over $5,000.
He truly was a Shining Star.