By Bob Weaver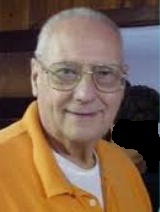 Gene, welcome home to the Village of Hur.
The Rev. Millard "Gene" Kerby has passed at the age of 84 at Oak Hill, Ohio.
He was one of several Hur country boys who were inspired to enter the ministry, attending the Mt. Olive United Methodist Church, the center of community life during Gene's coming of age.
His brother-in-law, the Rev. Robert Duskey, who also sprung from here will be conducing his funeral Sunday (Jan. 22) at 2 p.m. at the 138 year old church in the long-gone village.
Kerby, whose family were early comers to the Hur area in the early 1800s, spend his early life attending the church, a 1950 graduate of Calhoun County High School.
He was the son of the late Orval and Velma Carpenter Kerby.
He was a graduate of Salem College, where he earned his degree in Pastoral Ministries, his first charge was in 1961 in Calhoun, and then went on to serve many churches in the West Virginia United Methodist Conference for over 37 years until his retirement in 1998.
Gene was a veteran of both the United States Army and the United States Air Force, having served during the Korean Conflict.