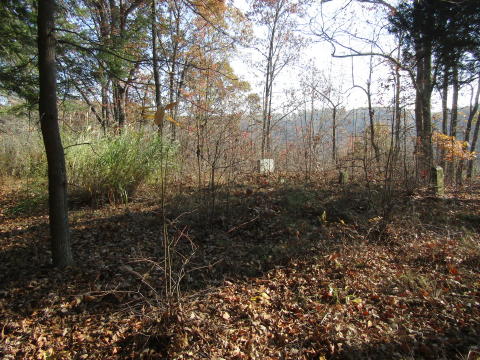 Remote Husk Cemetery near Paulcer's
Knob has large trees growing within boundaries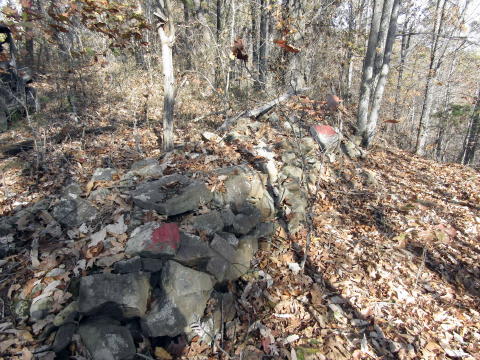 Nearby is rock fences built by early
Husk families, no money for wire
By Bob Weaver
The hardy Husk families came to Calhoun before the Civil War, most settling the environs of the hardscrabble Husk Ridge and its neighboring hollows, while others settled along the West Fork of the Little Kanawha in the Altizer community, some are buried in that communities Husk Cemetery.
They were poor, long before we had official names to describe such a condition, with Calhoun people always saying, "They didn't know they were poor."
We have spent most of our lifetime traveling, researching and writing about the Husk Ridge, which once had about 50 families along its course.
Now there are none.
The Husks somehow managed to eek a livelihood well over hundred years ago from the steep mountains and narrow hollows, with very little flatland, holding their livestock with rock fences, too poor to buy barbed wire.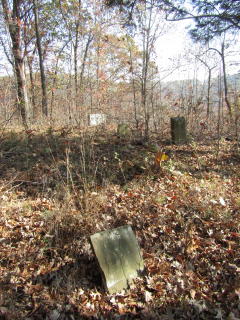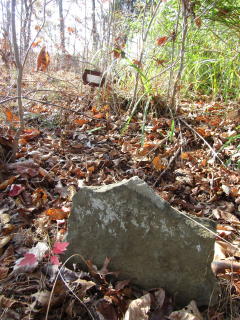 Few markers have names of about
20 people buried in cemetery
Over the years we have written about six ridge cemeteries wherein repose those early comers, but it wasn't until recently we finally made it to the seventh and most remote, the long abandoned Issac Husk Cemetery located a short distance from Paulcer's (Palsor) Knob, one of Calhoun's highest peaks.
The knob was named for Civil War veteran Paulcer McCune, who went AWOL and lived in a cave in a nearby hollow, hiding out for about a year. (See earlier stories)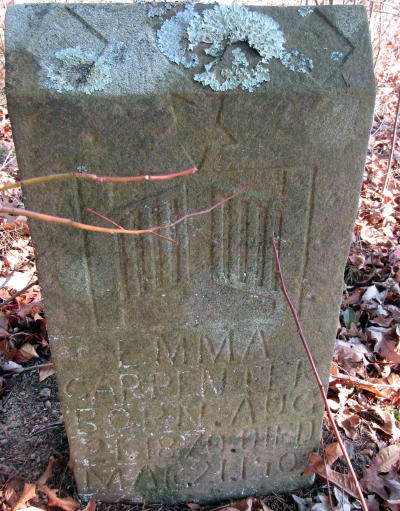 Emma Husk Carpenter (1870-1907), daughter of Wesley Husk,
and wife of Lewis Carpenter (1872-1952) reposes in cemetery
The cemetery is situated on a flat above a steep hillside where many of the families lived, accessed by a UTV compliments of Kenneth Starcher, winding through the dense woods, sometimes on old haul paths and through dense brush.
The cemetery likely has about 20 graves, only four with named markers.
The cemeteries namesake Issac "Ike" Husk (1846-1928) and his wife, Rachel West Husk (1850-1929).
They had nine children, some of which are buried in this cemetery, including daughter Cordelia Husk Boggs (1888-1938).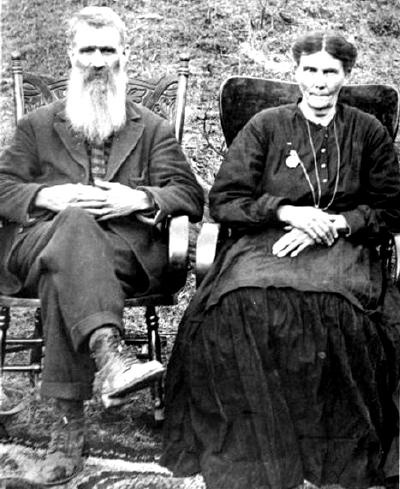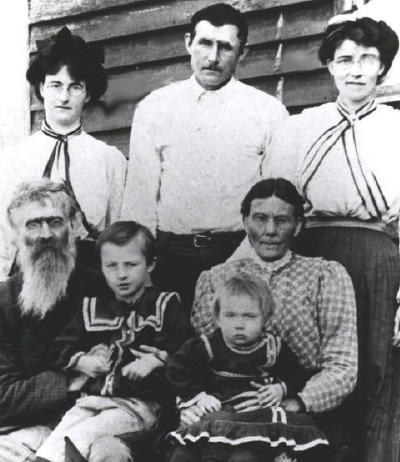 Issac and Rachel West Husk and some
of their nine children, early 1900s
Issac Husk's parents, early comers Samuel (1823-1888) and Dorcas Critchfield Husk (1827-1914) are buried above the West Fork of the Little Kanawha at Altizer.
Best remembered are members of the Blosser family, some of which are buried in the cemetery, children of John and Lovie M. Husk Blosser who lived in the nearby Board Fork hollow.
A marker stands for Betty J. Blosser.(1937-1955), who died from cerebral palsy in 1955.
She and her siblings, Larry (1936-1991), who graduated from Calhoun High in 1955 with his sister Bonnie, and sister Lila all walked the long distance from Board Fork to the Hur bus stop to catch Kelsey Dawson's bus.
The Blosser children appeared to be frail and barely had a change of clothes, a fact that few recognized at the time.
The trek to the bus stop was between 3-4 miles, but a rough trek it was, climbing the steep Paulcer Knob mountain from Board Fork, weaving around a path to the clay mud of the Husk Ridge Road, then on to the Village of Hur.
These years later I remember their cold faces on winter days, and their perseverance to make it to school.
I honored them while visiting the cemetery, also remembering the several hundred Calhoun kids who were in the same boat.