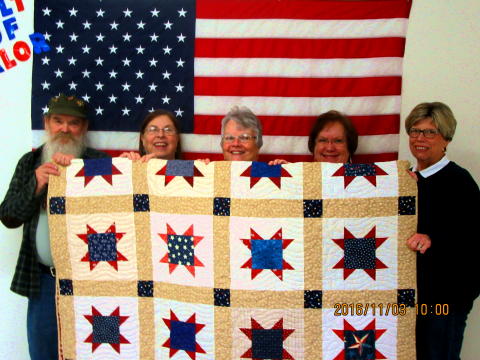 Pictured (L-R) Bob Cain, Cathy Jones, Martha
Harris, Beverly Harold and Barb Siers. Not pictured
are Carolyn Gragg, Sheryl Stevens and Patty Cain
To understand the profound effects of war, one only has to speak with a service man or a veteran. The non-veteran can only get a minute glimpse of those effects that remain with the veteran forever. An understanding that freedom is not free.
In 2003, a woman by the name of Catherine Roberts had a dream about her son Nat who was deployed in Iraq. In the dream she saw her son hunched over his bed. She could see the demons of war clustered around him dragging him down into an emotional gutter. Then she saw her son wrapped in a quilt seeing his demeanor change from despair to hope and well being. This dream was the beginning of a mission to cover all service members and veterans wounded physically or psychologically with a comforting and healing "Quilt of Valor." To date over 1 million quilts have been donated.
During the November meeting and in honor of Veteran's Day, The Unbreakable Threads Group that meets at the Five Forks Community Church Social Building awarded a local Vietnam Veteran, Bob Cain, with the Quilt of Valor. During the breakfast presentation Martha Harris explained how the Quilt of Valor was a thank you, an act of appreciation, for the veteran's service, sacrifice and valor.
Martha ended the presentation with scripture (Ecclesiastes 3.8) "A time to love, a time to hate; a time of war and a time of peace." This is the second Quilt of Valor to be presented by the Unbreakable Threads Group.
Bob Cain served in the United States Marine Corp, in Vietnam in the 3rd Battalion, 9th Marines 3rd Division. Kilo Company October 1966-November 1967. Bob was awarded the Purple Heart from wounds received during the battle of Quang Tri May 20, 1967. Bob and his wife Patty reside on Leading Creek and are the parents of two sons, Ed of Cairo, WV and Heath also of Leading Creek.