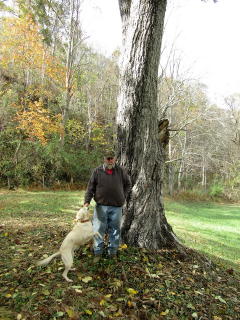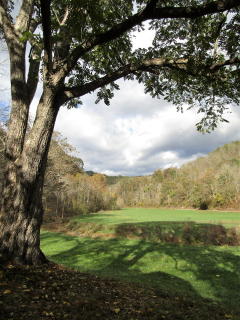 Kenneth Butler below a large white walnut (also known
as butternut) tree which has a circumference of about
17 feet, tree planted by the Seldon Wayne family on Beech
By Bob Weaver 2016
Beech Creek resident Kenneth Butler recalled being one of the 14 children of Donzel and Lilly Falls Butler, longtime residents of the valley.
The Butler clan came to Beech and Calhoun County just after the Civil War, and many dug deep into the sod to make a livelihood.
Only one of his siblings is deceased, Daniel "Jack" Butler died in 2011.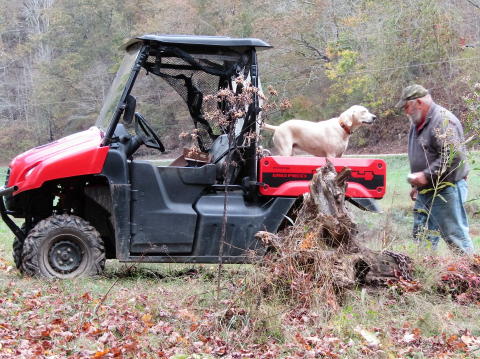 Butler with his dog at his original home
on Beech, the Seldon Wayne homestead
His brothers Frank, Clarence, Paul, Grover, and Bob, survive, in addition to sisters, Marie Burrows, Carolyn Stutzman, Sharon Rucker, Geneva Rhinehart, Peggy Hall, Esther Nichols, and Pauline Drake.
Butler has spent his lifetime in the valley along its long and winding creek with dozens of early homesteads, earlier living at the mouth of Two-Run.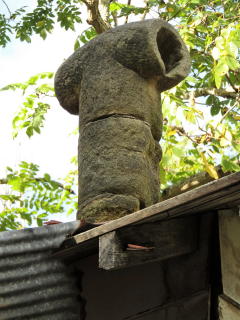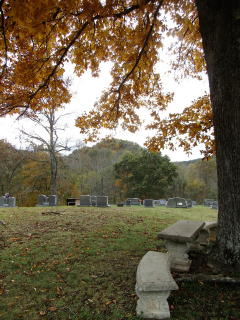 Unique stone chimney of the Wayne-Butler
house; across the road the Bailey Cemetery
He spent his early days in a narrow holler just off Beech, near his grandparents Roy and Martha Butler's homestead,. "Us boys usually slept in the same bed," he said.
"Years ago I bought the Seldon Wayne property, on which I raised my family, later building a place up the creek," he said.
Butler married Mary Bailey, they have three children, he worked for many years in the oil-gas field and 25 years for Houchin Construction.
See FAIRVIEW HOMECOMING IN DEEP WOODS - Butler Family Returns With Memories
And LOG PENS STILL DOT CALHOUN FARMLAND
THE EDGE OF WINTER: BEECH CREEK VALLEY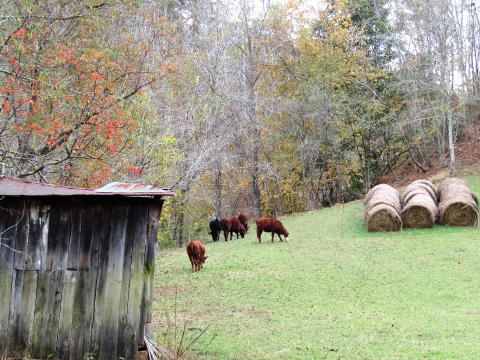 Cows graze along the creek
Amos Wallbrown residence still barely standing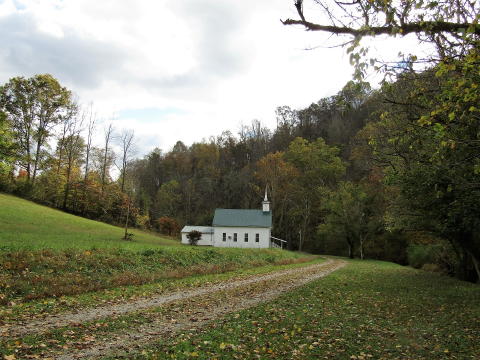 Beech United Methodist Church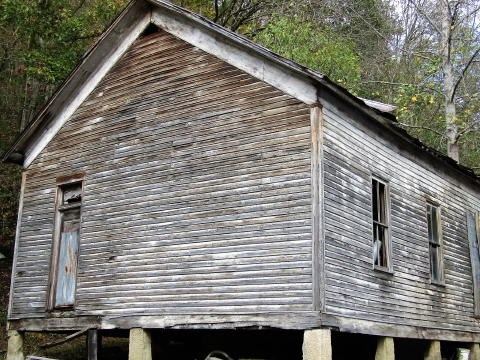 Early Beech One Room School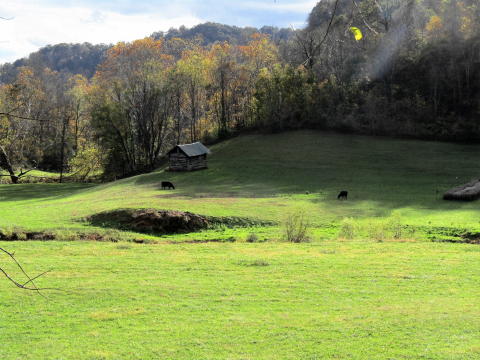 Pastoral Beech Creek on the edge of winter