THIS OLE HOUSE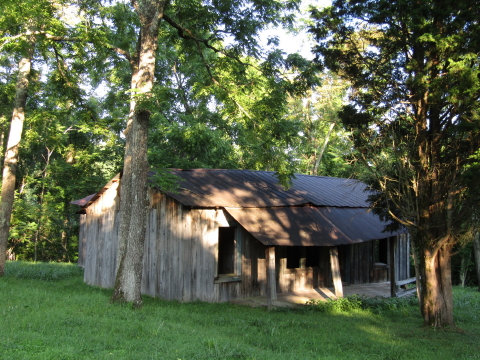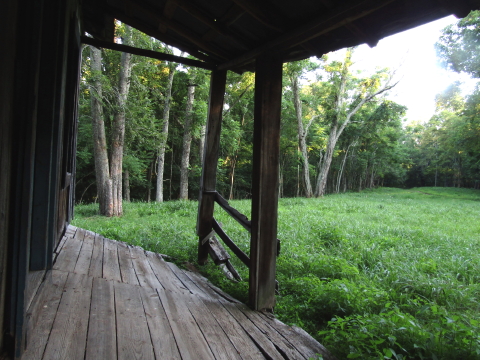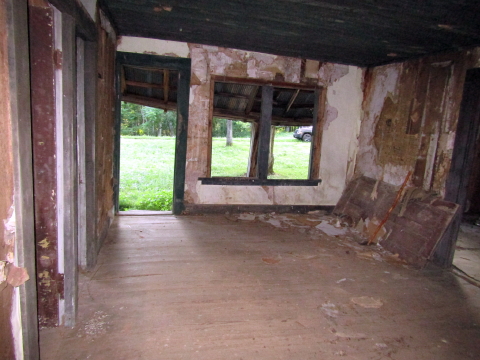 Among the last of 25-30 homesteads standing on Cunningham
Ridge between Little Creek and Cremo is the small remains
of the Albert Curtis "Cort" Cunningham dwelling, built
in the 1920s, where nine of his children were raised
By Bob Weaver 2016
It's one of many remote roads in Calhoun, its hey-day remembered by a few oldtimers, including Cremo resident Ben Cunningham, who is 83.
In the 1930's and 40's the Cunningham and Stutler boys would get together with the Duskey boys and with steady hand and keen eyesight shoot the ends off cigarettes being held in the mouth of their friends.
"No one died, that's how good they were," said Ben.
The names attached to the primitive five-mile road is Little Rowels Run, connecting Little Creek and Cremo, where Rowels Run connects to the West Fork of the Little Kanawha.
On the Little Creek side is Cooper Hill and on the Cremo side is Miller Hill, named after early families.
The area between, on top of the mountain, has long been known as Cunningham Ridge.
Ben Cunningham says at least 25-30 family houses dotted the area in the early 20th Century. Now there are none, with a few rare remnants barely remaining.
One barely remaining house on the ridge was built and occupied by Albert Curtis "Cort" (born 1880) and Sophia Jane Greathouse (born 1878) Cunningham and their family of nine children, the boys included Roy, Ray, Ralph and Shirley, the girls, Maggie (Norman), Pearl (Posey), Dolly (Schrader) and Effie (Kerby).
NEWSPAPER WALLPAPER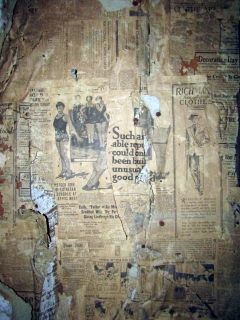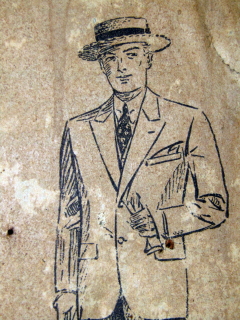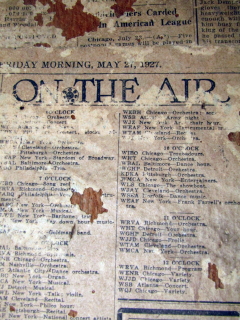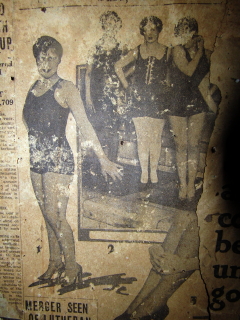 The earlier layer of newspapers from 1927 were layered over
the cracks, to later be covered by more decorative wallpaper
The couple married in 1899, living at various locations until building a small four room house with porch on the ridge in the 1920s. Wallpaper layers, during a recent visit, included coverings of newspapers dating to 1927.
Among a few of the Cunningham Ridge area families included Lant Mollohan, Charles Duskey, Hollie Miller, Jim Bennett and Daniel Cooper.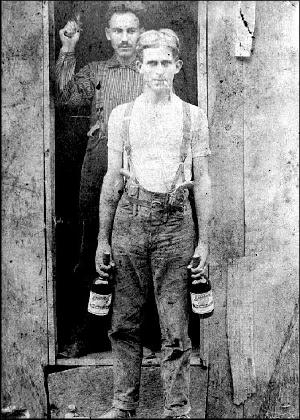 Joe Webb in front, Cort Cunningham in doorway at Cunningham Ridge-Little Creek speakeasy, with several pistols. among numerous Calhoun citizens who made "shine" for a few bucks, a few going to prison
While Cunningham will be remembered as a moonshiner related to the early 1900 photo, he was a hard working man who raised his family from the tiling of the earth.
The photo was given to me by his daughter, the late Dolly Schrader of Little Creek. All nine of Cunningham's children are deceased.
Calhoun still has a tinge of prohibition.
In 2016, it is the only county in the West Virginia that has by legal vote prohibited locating a liquor store within its' boundaries, based on an assumption that such a ban will limit the drinking of alcohol, just like the prohibition movement.
The county has long operated under the motto of the Calhoun Chronicle - "Good Government, Pure Homes and Godly Hearts."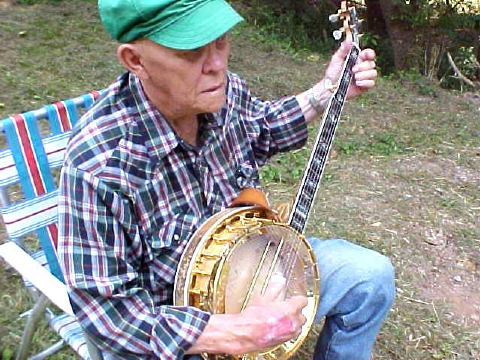 Ralph Cunningham, son of "Cort" Cunningham, pickin' and
singin' at at Cedar Grove Homecoming, often returned with
grace and honor to Cunningham Ridge and his homeplace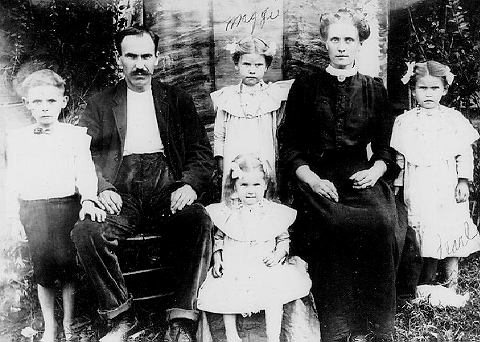 1906 (Front) Effie Cunningham; (Back L-R) Ray Cunn-
ingham, Albert Cort (Curtis) Cunningham, Maggie Cunn-
ingham, Sophia Jane Greathouse Cunningham, Pearl Cunningham.