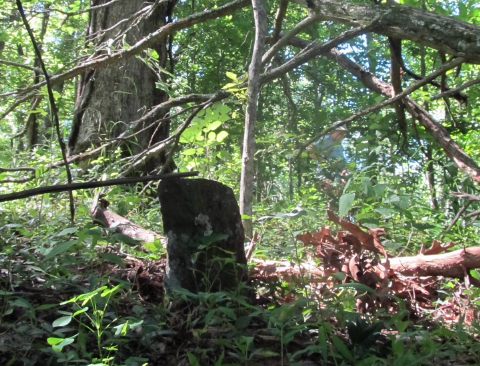 Long lost cemetery with a few rock stones
recalls early family that lived in remote area
By Bob Weaver
Trudging the Husk Ridge near Hur for over 70 years, we rather quickly discovered at least six cemeteries, but it wasn't until recently, with the help of Marvin and Peggy Whytsell Stemple, we finally located the Evans Cemetery on a remote ridge shortly off the Husk, not far from the long gone Pine Grove one room school near Richardson.
All of the graves, maybe six, are unmarked rocks, likely members of the Daniel Evans family, who likely lived in a hollow off the ridge from the cemetery.
Daniel Evans (born 1829 in Greene Co. PA) and his wife Elizabeth Hineman born in 1828) moved to the Husk Ridge area before 1900, with a number of children including Lewis Evans (born 1869) and numerous grandchildren living in the household.
Lewis Evans was born in 1869, likely in Greene County PA and was on the Husk Ridge at least by 1891, marrying Belle Saltkeld.
Daniel Evans (1829-1909) and his wife Elizabeth Hineman Evans (1828-1924) are however buried in the Dry Hill Cemetery above the West Fork of the Little Kanawha, Rocksdale.
The family appears to have scattered to the wind.