The Herald has faced some difficult times, including being hacked more than once, and recently, including more recently not being able to connect to satellite internet, told we can have a serviceman after March 1. We are currently spending hours a day back on Frontier "high speed" to get it done, and cannot reply to emails.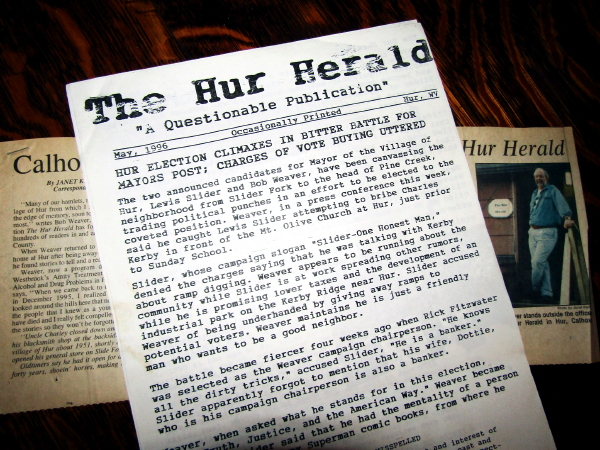 The first edition of the Hur Herald 25 years ago said, "The Hur Herald - a questionable publication, cheap, unedited and misspelled - is printed for the amusement and interest of neighbors, whom I have come to deeply respect, past and present."
"It is written with a kind heart, with some exception, recognizing that shared memory is among our greatest gifts to each other."
That editions headline story - "Hur Election Climaxes In Bitter Battle For Mayors Post, Charges Of Vote Buying Uttered."
The fictitious election battle was between Bob Weaver and Lewis Slider, Weaver claiming he caught Slider trying to bribe Charles Kerby just before Sunday School.
Slider's campaign slogan was "Slider-One Honest Man," while Weaver's slogan was "Truth, Justice and the American Way."
Slider said Weaver had the mentality of a person that read too many Superman comic books.
Weaver made a campaign speech in front of the McCoy Store saying, "I represent the poor and hapless (apparently meaning hopeless)."
A featured story was the replacement of the aging outhouses at the Hur Church, and story about Proposition 111, a ballot move to extend the town limits of the beleaguered village.
That edition recognized the passing of three strong woman from the village, Leona Sturn (1903-1996), former switchboard operator; Ona Roberts Smith (1902-1996), remembered for her persevering motherhood and kind voice; and Scottie McCoy (1911-1995), Hur's last storekeeper, one of a kind, outspoken and fiercely independent.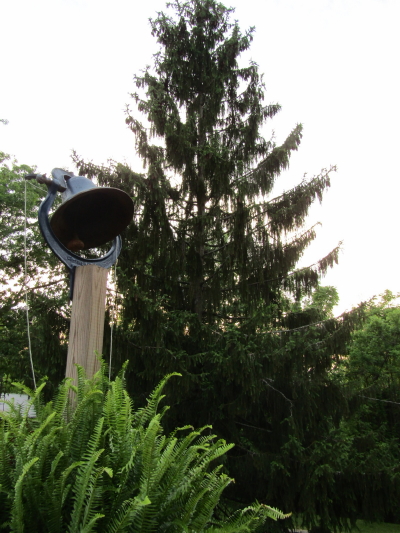 Over the years it drew the attention of newspaper reporters, TV reporters and magazine writers, many who made the trip to the Village of Hur.
That first edition grandly proclaimed, "If its so that the truth will set us free, we will work toward it, recording and reporting some facts, but most importantly stories often told on the quiet of a porch."
"It will be our small effort to record the life and times of our people, with a dash of history, the beauty, love and survival of those gone on."
Without adequate financial backing, the Herald sorta quit for a year, but geared back up Jan. 2018 with even more readers.
Weaver said he got tired of counting the cars that went by his house every day, all twelve.
The archives have been donated to Glenville State College Archives for preservation.