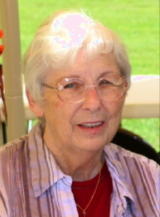 Wanda Veye Houchin, 77, of Arnoldsburg, West Virginia passed away at Camden Clark Memorial Hospital surrounded by her family on May 23, 2016.

She was born on September 12, 1938 in Calhoun County, West Virginia, the daughter of the late Lee and Ocie (Bailey) Hall. She was also preceded in death by infant twin brothers, Loyd and Boyd Hall; a brother Albert Guy Hall; a grandson Josh Varda; a sister Bernice (Hall) Matheney, brother-in-law Willard Matheney and brother-in-law Donald Craddock.

Survivors include her husband of 58 years, Billie D. Houchin, whom she married on August 10, 1957; her children, Debbie Varda and husband John of Spencer WV, Jeff Houchin and wife Kelley, and Dee Starcher and husband David all of Arnoldsburg; her grandchildren, Andrew Varda of Los Angeles CA, Zachary Houchin of Morgantown WV, Sarah Varda of Fort Lauderdale FL, Matthew Houchin of Morgantown, Ashley Houchin of Radford VA, Kristyn Starcher of Millstone WV and Cody Starcher of Arnoldsburg; siblings, Sylvia Craddock, Norma (Dale) Starcher, Darrell Hall, and Paul (Carol) Hall; sister-in-law Ollidene Hall and many nieces and nephews.

She was a homemaker and co-founder of Houchin Construction and Houchin Rental & Sales and owner of Houchin Fabric Shop. She was a graduate of Calhoun County High School Class of 1957. She enjoyed spending time with family and friends playing cards and dominoes. She looked forward to spring and summer and a porch full of beautiful flowers.

Funeral services will be held at Stump Funeral Home, in Arnoldsburg WV on Friday, May 27 at 1:00 p.m. with Reverend Kevin Church and Reverend Rick Metheney officiating. Visitation will be 5 to 8 p.m. on Thursday, May 26 at the funeral home. Interment will be in the Bailey Cemetery on Beech.