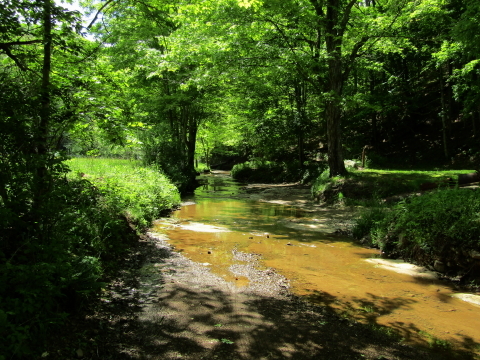 Remote Grannies Creek slowly moved into 20th Century
By Bob Weaver
Until the 1970s it was a hard drag to get vehicles in and out of Grannies Creek, Stony Lonesome and Pigeon, described by a resident as "mud knee deep to an elephant."
Today the Geary District road in Roane County is paved, chipped and tared with guardrails for safety, with numerous modern houses and mobile homes, a significant upgrade from the Jenny Lind hard scrabble dwellings of times past.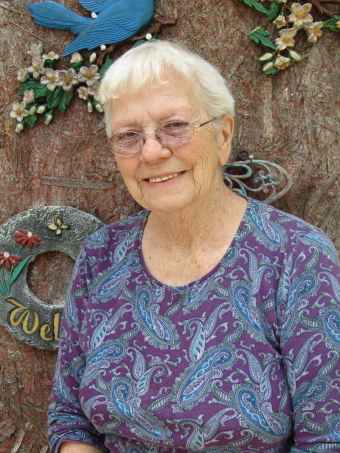 Lillie loves the place where she has spent 83-years
"At one time there were three one room schools on Grannies," said 83-year-old Lillie Gandee Collins, who has lived on the creek all her life, near the long-gone Hopkins country store.
The schools were spread apart on a 10 or more mile stretch, Upper, Middle and Lower schools, Collins said.
The first school was taught by Calhoun's Aristotle Smith.
Smith wrote, "During which time I boarded with Newton Nichols on the conclusion of which having previously contracted for it there having been a new Sub. Dist. formed on Grannies Creek in Geary Dist. Roane Co."
"I began on Monday morning March 7th 1883 and taught 3 ½ months the first free school ever taught on Grannies Creek during which time I boarded with Sam King, my school closing June 23rd 1883."
See CALHOUN'S ARISTOTLE - "Anything You Wanted Him To Be"
Lillie acknowledged that the area was once petty rough and tumble, "You really had to learn your place."
"Herman McKown and me are the only long-time residents left," she said.
At the head of Grannies Creek is the area more recently coined "Murder Mountain" in the Ovapa, Clay County area.
Several families made moonshine in order to survive financially.
"Now, for the most part it is a peaceful place and neighbors don't bother you." Lillie said. "I really love living here."
Electricity didn't come to the area until the 1950s, compliments of a gigantic government program - Rural Electrification Administration.
"If we would have waited on the free market and private investment to bring electric here, we still wouldn't have it," said a resident.
Lillie still digs ginseng and Yellow Root in the nearby woods, not far from where she was born, and attends the only church on the creek, Grannies Creek Goodwill Church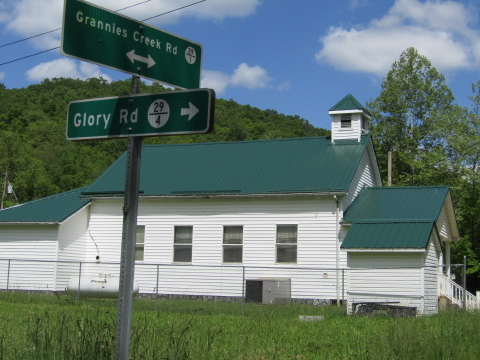 Grannies Creek Goodwill Church still has about 25 attendees
Lillie recalled through the late 1960s, if there was an emergency, someone would have to drive about 10 miles to Vineyard Ridge (Rt. 36) to call for help from Spencer or drive over to Rt. 4 in Clay County.
"Then we finally got dial phones on a 10-person party line," she said.
A number of roads branch from Grannies Creek, Pigeon, Glory Road, and Stony Lonesome, among others.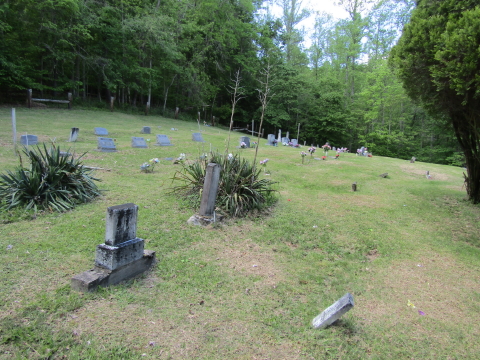 The citizens rest on the hilly Kirkhart-King Cemetery
Most of Grannie Creek's deceased rest on a high hillside in the Kirkhart-King Cemetery, including seven members of the John and Jean Willoughby family who died in a flash flood in 1958, among the creeks poorest families.
Grannies Creek turned into a sudden torrent that churned their home to bits at the confluence of two creeks.
The only survivor was the distraught father John Willoughby, 45.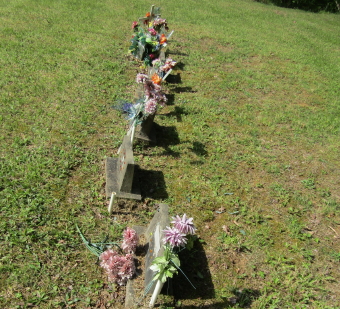 Seven family members lost their life in 1958 flash flood
Caught between the converging waters, the ramshackle old Willoughby place was spun about like a top. Willoughby said he grabbed two of the smallest children, one under each arm.
About that time he was spun like a cork through the unroofed top of the house and the children squirted from his arms and the next he remembered was tree branches flailing his face.
The victims were the children's mother and wife of John Willoughby, Mrs. Ella Willoughby, 37; Wilma Lee, 9; Eula Irene 8; Waveline, 6; William Hugh, 5; Raymond 3, and Hazel Jean, 2.
Several "poorer than church mice" families spent their lives on Grannies, including one family of about 18 who lived in a two-room house under which the pig pen was located.
"The people here had strong survival skills," concluded Lillie. "I hold them up."
- Lillie Collins was the daughter of William and Blanche Welch Gandee, marrying Joe Weiland and Jr. Collins (both deceased), having five children.
See SUNNY CAL JOURNAL - Faces Of Poverty, Maggots To Copperheads
And AROUND THE BEND: SLOW LIFE ON STONY LONESOME - "Mud Knee Deep To An Elephant"