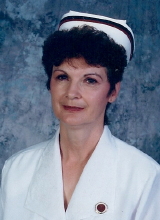 Evelyn Gay Spaur age 71 of Joes Run Road, Gilmer County, West Virginia, departed this life at 7:05 a.m. Sunday, May 15, 2016 at the Stonewall Jackson Memorial Hospital in Weston, West Virginia, following a short illness.

Born June 30, 1944 in Gilmer County, Evelyn was the daughter of the late William Creed and Lucille Lanham Frame Weaver.

Evelyn was a graduate of Sand Fork High School, class of 1963. In her spare time, Evelyn enjoyed spending time with family, friends, and her grandkids. She also liked to work in the garden, crocheting, and was a member of the Ellis Grove United Methodist Church.

Evelyn was a nurse in the medical industry having worked at Stonewall Jackson Memorial Hospital for 13 years, and William R. Sharpe Hospital for 5 years. Evelyn also worked for the Gilmer County EMS squad as a paramedic, having 18 years of service to her community.

On April 18, 1964 Evelyn was united in marriage to Rexell F. Spaur who survives at their Joes Run home.

Surviving is 1 son, Garry Spaur and wife Kelley of Weston WV; 1 sister, Betty Crutcher of Carlsbad NM; and 2 brothers, Clelly "Tub" Frame and wife Charlotte of Rosedale WV and Vernon Frame of Carlsbad NM.

Evelyn is also survived by several nieces and nephews, and 2 grandkids, Zoie Harris and Zach McHenry.

Along with her parents, Evelyn was preceded in death by 2 sisters, Mary Iris Frame and Karol Isenhart, and 3 brothers, Sam, Bill, and Roger Frame.

Funeral services will be conducted at the Ellyson Mortuary Inc; 2 Vanhorn Drive, Glenville, WV at 7:00 p.m. Friday May 20, 2016 with Pastor Bryan Groves officiating. Following services Evelyn's request for cremation will be honored and the family will have private burial at a later date. Friends will be received from 4-7 p.m. Friday evening, May 20, 2016 at the mortuary.

Ellyson Mortuary Inc. is honored to assist the family of Evelyn Gay Spaur with arrangements.