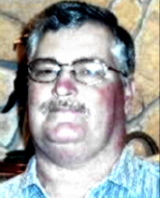 Clifton J. "Clif" Blankenship age 55 of Dusk Camp Run Road, Sand Fork, West Virginia, departed this life on the afternoon of Sunday, May 8, 2016 at the Ruby Memorial Hospital in Morgantown, West Virginia, following an extended illness.

Born November 23, 1960 in Bridgeton, New Jersey, Clif was the son of the late James Livingston Blankenship.

Clif was a coal miner by trade, who enjoyed hunting, fishing, riding ATV's, and being outdoors. He was a Christian by faith and member of the Church of God of Prophecy in Sand Fork.

On July 4, 1986, Clif was united in marriage to Karen Groves Blankenship who survives at their Dusk Camp home.

Clif is also survived by his mother, Margie Wesley Blankenship of Bolt WV; 2 sons, James Bryan and Cody Ryan Blankenship of Dusk Camp; 2 brothers, Carl Blankenship and wife Glenna of Fairmont WV, and Joseph Blankenship of Forest Hill WV; 5 sisters, Fredia Hash and husband Randall of Mullins WV, Carolyn Lafferty and husband Jackie of Glen Rogers WV, Dreama Blankenship of Bolt WV, Melissa Gieseking of Fairdale WV, and Victoria Francis and husband Ernest of Glen Fork WV; also surviving are several nieces and nephews.

Along with his father, Clif was preceded in death by 2 brothers, Mercer Lee Blankenship and James MacArthur Blankenship.

Funeral services will be conducted at the Ellyson Mortuary Inc. 2 Vanhorn Drive, Glenville, West Virginia at 4:00 p.m. Friday, May 13, 2016 with Pastor Bryan Groves officiating. Burial will follow in the Church of God of Prophecy Cemetery on Dusk Camp Run Road. Friends may call from 1:00-4:00 p.m. Friday at the Mortuary. Following graveside services the Church of God of Prophecy will be preparing a dinner in Clif's honor. All are welcome to attend and share in food and fellowship.

Ellyson Mortuary Inc. is honored to assist the family of Clifton J. Blankenship with arrangements.