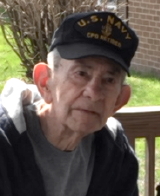 Harold Wayne Nida, age 77, of Creston, WV (Wirt County), passed away on May 6, 2016. He was a husband, father, and Vietnam War Combat Veteran.

Wayne was born in Parkersburg, West Virginia on October 21, 1938 to Julia Mollander. He was raised by Samuel and Bertha Nida on a farm in Clover, WV. He attended Roane County Schools and graduated Spencer High School in 1956.

Wayne enlisted in the 150th Cavalry of the West Virginia Army National Guard at age 16. At age 17, he transferred into the United States Navy and spent 20 years on active duty. He served 5 tours at sea (USS Merrick, USS Summit, USS Washburn, USS Leahy, and USS Independence) and was stationed in Yosouka, Iwakuni, Sasebo, Japan; Subic Bay, Philippines, and Norfolk, Virginia.

Wayne was deployed to Vietnam from 1969-1971. He engaged in several firefights during the Sapper attacks on the 6th Convalescent Hospital at the Cam Ranh Bay and as he performed his duties in the I, II, and III Tactical Zones. His superior officer praised him for being a problem solver, directly contributing to the high state of morale among troops and always exhibiting the highest standards of appearance and bearing, regardless of the tough extremes of Vietnam.

He was awarded the Navy Achievement Medal with Valor, The Navy Good Conduct Medal with four bronze stars, the National Defense Medal, the Vietnam Service Medal, and the Republic of Vietnam Campaign Medal.

Wayne was honorably discharged August 29,1975 at the rank of Chief Petty Officer (E7) and returned to Spencer, WV. There he met his soon-to-be wife of 40 years, Patricia Ann Meadows. They were married in 1976 and had two children, Peggy and Angela.

Wayne earned an associate degree from the Arch A. Moore Jr. Vocational, Technical, and Adult Education Center. He finished third in the National Vocational Industrial Clubs of America Competition for his quality craftsmanship skills. For the next 20 years he ran his own construction company.

Wayne enjoyed socializing with other Veterans, family, and friends. He was a fan of country music with Willie, Merle, and George being his favorites. However, he often told his kids that the only rock'n'roll worth listening to was Credence Clearwater. He was a grill-master and known to grill even in the depths of winter while wearing coveralls. He loved to pull practical jokes, and there's a certain grin that often graced his face that will be heartbreakingly missed.

Wayne is preceded in death by Samuel and Bertha Nida, and Julia Mollander.

Wayne is survived by his wife Patricia Nida (Creston, WV), and two children Peggy Piercy (Columbus, OH) and Angela Nida (Fairfield, CT)

Visitation services will be held from 6:00-8:00 pm, Tuesday, May 10, 2016 at Stump Funeral Home in Grantsville, WV, followed by funeral services Wednesday, May 11, at 2:00 pm. Graveside service will follow the funeral service at McCray Cemetery, with Kevin Church officiating. Arrangements are by Stump Funeral Home.