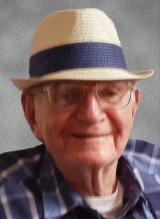 Frank Lee Smith, 89, of Wilmington, NC, passed away Thursday, April 28, 2016, at Lower Cape Fear Hospice.

Born in Newton, WV, March 24, 1927, he was the son of the late James F. Smith and Geneva Rogers Smith.

Frank proudly served his country in the US Navy where he was a signalman on the escort aircraft carrier USS Point Cruz during WWII. He is a 1949 graduate of WVU Institute of Technology. Frank lived many years in Bedford, VA, where he was an Assistant Product Sales Manager for Rubatex Corporation. Frank was an avid Civil War enthusiast and could detail its history in vivid color. He loved to hunt and fish and had a great sense of humor.

He was preceded in death by two brothers Ralph and Curtis and one sister Kathleen.

He is survived by his loving wife of 42 years, Hilda Fields Smith; one stepson, Patrick "Lee" Cundiff of Danbury, CT; two stepdaughters, Susan (Chuck) Keener of Kure Beach, NC and Regina (Lee) Steeneck of Southport, NC; two step-grandsons, Bradley Steeneck and Darren Steeneck; nephews Bradley Smith, Chad Smith and Jim Chauncey; nieces Pam Lefton and Sonjia Hammock; several grand- nephews and grand-nieces; and several sisters-in-law and brothers-in-law.

A chapel service was conducted Sunday, May 1, 2016, at Andrews Mortuary Valley Chapel, 4108 S. College Rd, Wilmington, NC, with Rev. Preston Wells officiating and military honors by the US Navy.

Burial will be in the Smith Family Cemetery in Newton, WV. The family would like to thank the staff of Trinity Grove Nursing Home for the excellent care they provided the past 4 ½ years. In lieu of flowers, Frank had asked that memorial contributions be made to the Smith Cemetery Fund c/o Clay County Bank, P.O. Box 239, Clay, WV 25043 or Lutheran Services Carolina c/o Trinity Grove Neighborhood B, P.O. Box 947, Salisbury, NC 28145. To send condolences online, please visit www.andrewsmortuary.com

John H. Taylor Funeral Home, Spencer, is in charge of local arrangements.