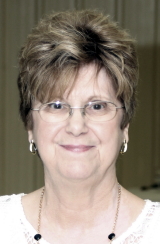 Freda Faye Cottrill age 71 of Right Ellis Road, Linn, West Virginia, departed this life suddenly on the morning of Tuesday April 19, 2016 at the Ruby Memorial Hospital in Morgantown.

Born April 5, 1945 in Charleston, West Virginia, Freda was the daughter of the late Newt and Elmeda Canfield Cottrell.

Freda was a fabricator for Madison Filtration (formerly P & S Filtration) in Spencer. In her spare time, Freda enjoyed spending time with family and friends, spoiling her grandchildren whenever possible, shopping, traveling, and going out to eat dinner. Freda had a special love for her pet cat, Nuisance, and her pet of 19 years, Pumpkin.

Freda was a Pentecostal by faith who loved life to the fullest. She will be greatly missed by all who knew her, especially her family.

On January 29, 1965, Freda was united in marriage to Melvin Cottrill, who survives at the Right Ellis home.

Also surviving are 2 sons, Melvin Lee Cottrill and wife Jackie of Skaneateles, New York, and Adam Blake Cottrill also of Skaneateles, NY; 5 grandchildren, Chelsea, Jason, Taylor, Kyra, and Lexie Cottrill; 2 great-grandchildren, Ava and Adrianna Hand; 2 brothers, Richard Cottrell and wife Sarah of Spotsylvania, Virginia, and Ronald Cottrell and wife Helen of Summersville, West Virginia; and 1 sister-in-law, Jeannie Cottrell of Heaters, West Virginia.

Along with her parents, Freda was preceded in death by her twin brother, Freeman Cottrell.

Funeral services will be conducted at the Ellyson Mortuary Inc., 2 Vanhorn Drive, Glenville, WV at 2:00 p.m. Sunday April 24, 2016 with Pastor Ronnie Tinney officiating. Burial will follow in the Cox Cemetery in Birch River, West Virginia. Friends may call from 1-2 p.m. Sunday afternoon at the mortuary.

Ellyson Mortuary Inc. is assisting the family of Freda Faye Cottrill with arrangements.