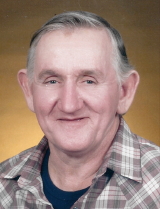 John Jacob McCullough age 64 of Kanawha Street, Glenville, West Virginia, departed this life suddenly on Wednesday April 13, 2016 at his residence.

Born August 24, 1951 in Gilmer County, John was the son of the late Leland and Mary Morris McCullough.

John was a truck driver in the construction industry and was an United States Army Veteran having served in the Vietnam War. In his spare time, John enjoyed hunting, fishing, gardening, spending time with family and friends, and especially spoiling his grandchildren any chance he could.

On January 13, 1977 he was united in marriage to Barbara Faye McCullough, who preceded him in death on July 24, 2014.

Surviving is 1 daughter, Angela Dawn Carder and husband Tim of Linn WV; 3 step-children, Mary Ellen McCullough and husband Woody of Glenville, Dewayne "Tiny" Arbogast and wife Kathy of Tennessee, Lonnie Darnell Arbogast of Tennessee, and 5 grandchildren, Taylor Carder, and Summer Carder, Scott McCullough, Christopher Arbogast, Megan Arbogast; 4 great-grandchildren, Cohen Ridge Carder, Leland and Camden McCullough, and Lillian Faith McCullough.

Also surviving are 8 siblings, Gladys Ellison, Woody McCullough, Mary Lou Dennison, Leona Vanhoose, Nancy McCullough, Sherman McCullough, Alice Hamric, and Arthur McCullough.

Along with his wife and parents, John was preceded in death by 1 daughter, Rebecca McCullough; 1 stepson, Walter Clayton Arbogast; and 2 siblings, Andrew McCullough and Lillian Clevenger.

John's request for cremation has been honored and the family will have a Memorial Service at the Camden Flats Baptist Church, 510 Kanawha Street, Glenville, WV at 11:00 a.m. Saturday April 23, 2016 with Pastor Dwight Goff and Pastor Phil Wilson officiating. Burial will follow in the Cedarville Cemetery in Cedarville, West Virginia.

In lieu of flowers, the family of John Jacob McCullough requests memorial contributions be made to the Camden Flats Baptist Church in honor of John.

Ellyson Mortuary Inc. is assisting the family of John Jacob McCullough with arrangements.