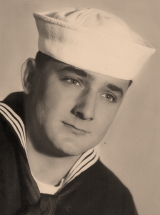 Robert Blaine "Jack" Chapman, age 85 of Glenville, West Virginia, departed this life at 9:51 AM; Wednesday, April 13, 2016 at the Minnie Hamilton Health Care Center in Grantsville, West Virginia, following an extended illness.

Born December 19, 1930 in Braxton County, West Virginia, Jack is the son of the late Cecil Ray and Elva Slaughter Chapman.

Jack attended Braxton County High School where he played football for Coach Chuck Smith who immediately gave him the nickname "Spider" for his agility on field. After high school he volunteered for service in the U S Navy during the Korean Conflict. He was immediately nicknamed "Admiral" by George Baker. Jack was always active in auto sales and service. But he loved farming and gardening most of all.

Jack was also a member of the Trace Fork United Methodist Church in Tanner, WV.

On April 21, 1955, Jack was united in marriage to Bridgett Skidmore Chapman, who survives at their Glenville home.

In addition to his wife he is survived by 4 sons, Larry Chapman and wife Amy of Glenville, Robert Chapman, Daniel Chapman, and D. Duane Chapman and wife Julie all of Glenville; 1 brother, Donald Chapman and wife Bessie of Gassaway, WV; and 1 sister, Ann Reed of Clarksburg, WV.

Also surviving are 3 grandsons, Thomas (Shay), Brett (Stephanie), and Jacob Chapman; 3 granddaughters, Devon, Abby, and Sarah Chapman, 4 great grandsons and 1 great granddaughter.

Along with his parents, Jack was preceded in death by 2 brothers, Gene Chapman, Calvin Chapman, and 1 sister, Elsie Greene.

Funeral services will be conducted at the Ellyson Mortuary Inc; 2 Vanhorn Drive, Glenville, WV at 2:00 p.m. Saturday, April 16, 2016 with Pastor Jim Huff officiating. Burial will follow in the Meadow Lane Cemetery in Glenville. Friends will be received from 4-8 p.m. Friday evening at the Mortuary.

I lieu of flowers the family of Robert B. "Jack" Chapman request memorial contributions be made to the Gilmer County Volunteer Fire Department, P. O. Box 255, Glenville, WV 26351 in Jack's honor.

Ellyson Mortuary Inc. is honored to serve the family of Robert B. "Jack" Chapman with arrangements.