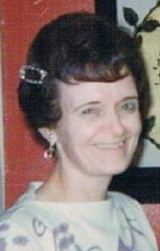 Services for Geraldine Kapustar, 85, of Willoughby, Ohio, will be at 8 p.m. on Thursday, April 21, 2016 at Davis-Babcock Funeral Home, 4154 Clark Avenue, Willoughby, Ohio.

The family will receive friends from 6-8 p.m. on Thursday at the funeral home.

Mrs. Kapustar passed away Monday, April 11, 2016.

She was born May 5, 1930 in Munday, WV she has lived in northeast Ohio since 1969.

Survivors are her daughter, Bonnie (Robert) Phelps of Willoughby and son, Wayne (Kathleen) Farrell of Big Bend, WV and their families; granddaughter, Charlotte (Steven) Addison; great-grandchildren, Amber and Justice and great-great-grandson, Kingston. She also leaves other family members in West Virginia.