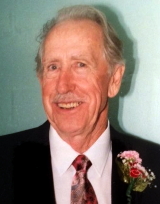 Donald Patrick (Brud) McCartney, 88, of Normantown, WV passed away at his home on Tuesday, April 5, 2016.

He was born June 21, 1927 in Index, WV to the late Sylvanus and Alice Goff McCartney.

He was one of nineteen children that his father had in two families. Being the youngest son, he lived at home and took care of his parents until their deaths.

He graduated from Calhoun County High School in 1946 and from Glenville State College in 1952. He served two years in the U.S. Army and in the Army Reserves until 1952. He started teaching school in the one-room school at Snake Root. He then taught at Calhoun County High School until his retirement in 1983.

He was a farmer and teacher all of his life, had a special love of poetry, especially Emily Dickinson. He loved to get a sick calf and nurse it back to good health as he had done many a time. He was saved and baptized into the Mt. Pisgah Baptist Church, of which he has been a member since the age of 60. He was also a Gideon and a member of the American Baptist Men.

Surviving are his wife, LaMoyne Ann Ritchie McCartney; one sister, Myrtle Roberts of Stumptown, WV; four step-sons, Bryan and Jody Rithcie of Winchester VA, Bruce and Stacy Ritchie of Marietta and Blane and Linda Ritchie all of Marietta OH, and Blake and Amanda Ritchie of Mineral Wells OH; ten step-grandchildren; and many nieces and nephews.

In addition to his parents, he was preceded in death by 12 sisters, Opal Roberts, Dessell Stump, Ella Lambert, Fanny Stump, Gladys Mahaney, Mabel Mahaney, Melva Robinson, Marble Smith, Myrtha Morris, Madeline Engle, Mary Bowe, and Margaret Kent; and brothers, Herldon, Kester, Loren, Hunter, and Sull McCartney.

Funeral services will be held at Stump Funeral Home, Arnoldsburg, on Saturday, April 9, 2016 at 1:00 p.m. with Rev. John Vannoy officiating. Visitation will be held at the funeral home Friday evening from 4-9 p.m. Interment will be in Bethlehem Cemetery, Grantsville.