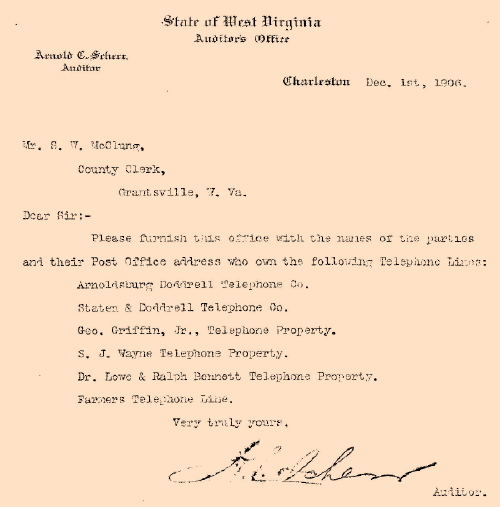 State of West Virginia
Auditor's Office
Arnold C. Scherr
Auditor
Charleston, Dec. 1st, 1906
Mr. S.W. McClung County Clerk, Grantsville, W. Va.
Dear Sir:
Please furnish this office with the name of the parties and their Post Office address who own the following Telephone Lines:
Arnoldsburg Doddrell Telephone Co.
Staten & Doddrell Telephone Co.
Geo. Griffin, Jr., Telephone Property.
S. J. Wayne Telephone Property.
Dr. Lowe & Ralph Bennett Telephone Property.
Farmers Telephone Line.
READ: EARLY CALHOUN PHONE COMPANIES - Independent Operations Covered Most Of County By 1900
ALSO: STURM FAMILY RAN CRANK'EM HUR PHONE COMPANY FOR OVER 50 YEARS
(07/06/2015) AND: CRANK'EM UP PHONES WERE "HIGH TECH"