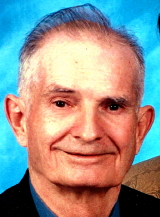 Waitman Miflin Sandy, age 90 of Beverly Drive in Glenville, West Virginia, went to be with his Heavenly Father on the evening of March 31, 2016 at Stonewall Jackson Memorial Hospital after an extended illness.

He was born January 18, 1926 to the late William Miflin Sandy and Eva Peggs Sandy.

He was a long-time member and deacon at Sand Fork Baptist Church, and served as minister of Leading Creek Baptist Church and Stewarts Creek Church. He enjoyed fishing, gardening, cooking, spending time with family, and engaging in church activities.

He retired as a Technical Sergeant with more than 20 years of active service in the U.S. Army, serving in the European Theater in World War II and in the Korean War. His military career took him back to Korea several times, and it was there that he met the love of his life, Sun Ae "Susie" Chon. Upon his retirement from the military, they were married and the couple settled in his hometown of Glenville where he cooked in the Glenville State College cafeteria for 20 years. After his retirement, he continued to feed both large and small crowds at community events.

He is survived by his wife of 49 years, Sun Ae "Susie" Sandy; son Robert S. "Bob" Sandy and daughter-in-law Bobbi Sandy of Glenville; daughter, Connie Stout O'Dell, son-in-law David O'Dell, and grandson Nathan Stout of Glenville; nephew, Mike Sandy, his wife Rachael, and their sons William and James of Glenville; and nephew Jerry Sandy of Glenville.

In addition to his parents he is preceded in death by his brother Meldon Lee Sandy and nephew Timothy Sandy.

Funeral services will be conducted at 11:00 a.m. on Tuesday, April 5 at Sand Fork Baptist Church with Reverend Kenny Fisher, Pastor Phil Wilson, and Pastor Lloyd "Fuzz" Steward officiating.

Burial will follow in the Meadow Lane Cemetery with full military honors provided by the United States Army and the Lewis County Honor Guard. Friends may call at Sand Fork Baptist Church on Monday, April 4 from 5-8 p.m.

Ellyson Mortuary, Inc. is honored to assist the family of Waitman M. Sandy with arrangements.