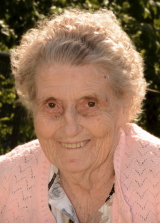 Lula Mae Conrad age 83 of Dusk Camp, West Virginia, departed this life on the evening of Wednesday, March 9, 2016 at the Minnie Hamilton Health Care Center in Grantsville, West Virginia, following an extended illness.

Born May 23, 1932, Lula was the daughter of the late Harley Grimm.

Lula was a loving, mother, grandmother, great-grandmother, and great-great grandmother. She enjoyed spending time with family and friends, caring for her loved ones, and was a Baptist by faith. In her spare time, Lula enjoyed playing cards, watching westerns on TV, spending time with her companion cat, named Calico, and saying her prayers every night before bed.

Lula married Wilbert A. Conrad and he preceded her in death on December 31, 2008.

Surviving are 5 children, Bobby Conrad of Ravannah, Ohio, Izetta Smith of Ohio, Wilda Cosner, of Sand Fork West Virginia, Rose Conrad of Cleveland, Ohio, and Ernest Conrad of Cleveland Ohio.

There are 19 grandchildren, 33 great-grandchildren, and 1 great-great granddaughter surviving.

Funeral services will be conducted at the Ellyson Mortuary Inc. 2 Vanhorn Drive, Glenville, WV at 3:00 p.m. Sunday, March 13, 2016 with Pastor Bryan Groves officiating. Burial will follow in the Conrad Cemetery near Dusk Camp. Friends may call from 2-3 p.m, Sunday afternoon at the Mortuary.

Ellyson Mortuary Inc. is honored to assist the family of Lula M. Conrad.