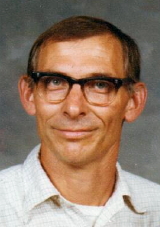 H. Wayne Freshour, 77, of Gandeeville, West Virginia died March 5, 2016 at the Camden-Clark Memorial Hospital in Parkersburg, West Virginia.

He was born September 12, 1938 in Calhoun County, West Virginia a son of the late Lora and Thelma Ruth Miller Freshour.

Wayne was a school bus driver, a truck driver and worked as a driver for the Roane County Emergency Squad. He was a dad and grandpa, volunteered for the Gandeeville-Harmony Volunteer Fire Department, enjoyed farming and was a US Army veteran.

He is survived by his nieces and nephews, Ruth Ann, Allen, Nancy and Kelly; great-nieces and nephews, James, Willard, Laura and Stephen; a brother, William Freshour; one granddaughter, Dreama Freshour; a step-granddaughter, Mackenzie; and his beloved dog, Charlie.

In addition to his parents, Wayne was preceded in death by a son, Mark Freshour; two grandsons; a brother, Willard; a sister, Louverna; and a niece, Lora Lynn.

Service will be at 1:00 p.m. Wednesday, March 9, 2016 at the TAYLOR-VANDALE FUNERAL HOME, Spencer, with Rev. Joe Cantley officiating. Burial will be in the Freshour Cemetery, Gandeeville. Visitation is two hours prior to the service at the funeral home.