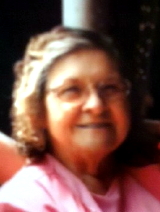 Birdene Madge "Toots" Nicholas, 72, of Duck, WV passed away on Wednesday, March 2, 2016 at Charleston Area Medical Center-General.

She was born in Akron, Ohio on June 7, 1943, a daughter of the late Bryce Aubrey and Nell Louise Jarvis Deweese.

She is survived by sons, Danny (Judy) Hall, Danna (Loretta) Hall, Ricky (Vickie) Hall, and Robert Hall: daughter, Sheila (John) Cunningham; grandchildren, Jessica (Jason) Hall, Ashley (Wayne) Rogers, William (Jackie) Cunningham, Jason Hall, Amber (Robert) O'Dell, Amanda Drake, Ronzal Allen, Jr., Leah Sears, Jonathon Hall, Sara Hall, Billy Joe Hall, Shinda (Jerry) Creachbaum, Erica Metheney, Jessica McCune, Robert Patterson, Travis (Tosha) Boggs, and Brandon Neal; great-grandchildren, Carley Ferguson, MacKenzie, Kelsey, Brooklynn, Betty, and Zoie Harris, Lilly O'Dell, Wayne Rogers, Jr., Arianna Rogers, William, Blake, and Deric Cunningham, Tommara Cayton, Case McCune, Lilly and Logan Creachbaum, Ronzal Sears, III, Austin Drake, Serenity, Robert, Catlyn, and Emily Hall; and sister, Nancy (Ralph) Carpenter.

In addition to her parents, she is preceded in death by husband, Olaf Nicholas; brother, Bob Deweese; and grandchildren, Joshua, Christopher, James, and Connie Hall.

Funeral services will be held at Stump Funeral Home, Arnoldsburg, on Sunday, March 6, 2016 at 2:00 p.m. with Rev. Lester Tanner officiating. Interment will be in McLaughlin Cemetery, Big Otter. Visitation will be one hour prior to service.