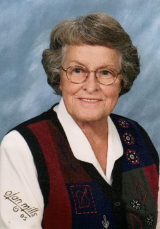 Helen Louise Garrett, 90, of Spencer, West Virginia died February 28, 2016 at the Roane General Hospital, Spencer.

She was born January 14, 1926 in Rowlesburg, West Virginia a daughter of the late William Howard and Gladys Charlotta Wilson Bolyard.

She was a long time and retired Roane County schoolteacher, a member of the Delta Kappa Gamma Society for Women Educators and the West Virginia Education Association. She was a member of the Roane General Hospital Ladies Auxiliary, a long-time and active member of the St. Johns United Methodist Church and volunteered for the Roane County Helping Hand and at the Heritage Park One-Room Schoolhouse during the Black Walnut Festival.

She is survived by a daughter, Jane (Brett) Harrison of Poca, West Virginia; three sons, Paul (Peggy) Garrett of League City, Texas, Gene (Kitty) Garrett of Virginia Beach, Virginia and David (Julie) Garrett of Spencer; seven grandchildren; and nine great-grandchildren.

In addition to her parents, she was preceded in death by her husband, Clifford W. Garrett in 1973; and two brothers, James and Robert Bolyard.

There will be a graveside service at 2:00 p.m. Wednesday, March 2, 2016 at the Eventide Cemetery, Spencer with Rev. Russell Stump officiating. TAYLOR-VANDALE FUNERAL HOME, Spencer is in charge of arrangements. There will be no service or visitation at the funeral home.

In lieu of flowers, the family suggests donations to the Roane General Hospital Ladies Auxiliary, 200 Hospital Drive, Spencer WV 25276 or the Heritage Park One Room Schoolhouse c/o City of Spencer 116 Court Street, Spencer WV 25276.