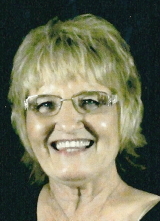 Dottie Sue Grogg (Frashure) Bush age 62 of Tanner, West Virginia, departed this life at 3:26 PM; Saturday, February 27, 2016 at her residence, surrounded by her loving family, following a 5 month illness.

Born December 14, 1953 in Weston, West Virginia, Dottie was the daughter of the late Leamon H. and Amy S. Stalnaker Grogg.

Dottie was a homemaker who loved caring for her family, spending time with friends, and spoiling her grandchildren every chance she could. Dottie grew up in Tanner. She married Budge Frashure in 1970. They remained married until 1999. She later married the love of her life Richard Bush. As her husband Rick has said many times "she had a heart of gold".

She is well known for her beautiful smile and funny sense of humor. She was a wonderful cook and spotless house keeper. Dottie had a real love of animals, she leaves behind her beloved pets, Gator, Ginger, and Ghost Buster, who will miss her very much.

On October 20, 2007 she was united in marriage to Richard "Rick" Bush, who survives at their Tanner home.

also surviving are 2 children, Wendy Mathess and husband Steve, and Nikki Frashure all of Jane Lew, WV; 1 grandson, Branson Mathess of Jane Lew; 1 great-granddaughter, Madison Breyer Mathess of Buckhannon, West Virginia; 3 stepchildren, Bryan Bush and wife Monica of Tanner, Chris Bush of Glenville, WV, and Ashley Huffman and James also of Glenville; 6 step-grandchildren, Richard and Ava Bush, Tyler and Beau Bush, and Tristian and Remington Huffman; and 8 siblings, Deloris Davis, Peggy Wade, Connie Cogar, Catherine Phillips, Billy Grogg, Kenny Grogg, Anthony Grogg, and Danny Grogg.

Along with her parents, Dottie was preceded in death by 1 grandson, Breyer Mathess; 2 sisters, Lena Ferguson, and Freda Amos; and 8 brothers, Rondel Grogg, Donal Grogg, Marshall Grogg, Keven Grogg, Steve Grogg, Leon Grogg, Jackie Grogg, and Freddie Grogg.

Funeral services will be conducted at the Ellyson Mortuary Inc., 2 Vanhorn Drive, Glenville, WV at 1:00 p.m. Thursday, March 3, 2016 with Pastor Alfred Hickman officiating. Burial will follow in the Hiney Cemetery in Linn, West Virginia, near Ellis Road. Visiting hours will be from 4-8 p.m. Wednesday evening at the Mortuary.

Ellyson Mortuary Inc. is honored to serve the family of Dottie Sue Bush with arrangements.