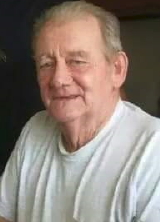 Arlie "Ray" Stanley Jr., 81 of Elizabeth WV passed away Feb. 28, 2016 at Marietta Memorial after an extended illness.

Ray was born in Ritchie County the son the late Arlie Ray Stanley Sr. "Red" and Opal M. (Eddy) Stanley.

He was a graduate of Wirt County High, Class of 1952, and served in the United States Army from 1953 to 1955. He drove truck for several years, and was owner of Stanley Body Shop.

Ray enjoyed farming, being around animals was one of his greatest enjoyments. He loved being with his friends and family, and Bluegrass music.

He is survived by 3 sons, Timothy R. (Julie) Stanley of Elizabeth, Troy Stanley of Wilksboro NC and Jerry (Becky) Stanley of Waverly WV; grandchildren, Renee Stanley, Andrea (Justin) Dornacker, Clint (Chelsea) Stanley, Casey Stanley, Justin Williamson, and Damian Williamson; great grandchildren, Zoey Williamson, Raylee Stanley and Emory Dornacker; brothers, James I. Stanley and George W."Bill" Stanley; sister, Lillian Dulin Stanley; several nieces and nephews.

In addition to his parents he was preceded in death by his wife, Eleanore (Hubbard) Stanley; son, Richard "Dick" Stanley; infant sister, Arlene Stanley; sister, Edna Mae Stanley; brother, Eddie Leroy "Butch" Stanley.

Visitation will be Tuesday, March 1, 2016 2-4 and 6-8 at Matheny Whited Funeral Home of Elizabeth WV. The family will hold a private graveside service at a later date.