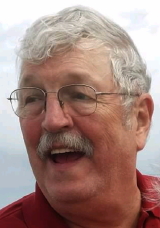 John Ware Brinson, Jr., 71, of Orma WV, passed away on Friday, February 19, 2016 at Charleston Area Medical Center.

He was born four weeks premature, on June 7, 1944 in Greenville SC. He came into and left this world too soon. He was a son of the late John Ware Brinson, Sr. and Elizabeth Mae Alexander Brinson.

He was a devoted husband to his wife, Tina, of 45 years and a loving father and grandfather.

He is survived by wife, Tina Brinson; son, David Brinson and his wife Dani Brinson; daughter Dana Brinson and her wife Kris Snyder; daughter Jessie Brinson; son Kerry Fishel and his wife, Corey Koch-Fishel; grandchildren, Zachary and Abigail Brinson; and John-Emery and Josie Fishel.

John was known for his quick wit and easy smile; he never met a stranger. He had a brilliant mind and an insatiable thirst for knowledge. He was a Civil War buff, small aircraft pilot, master gardener, and avid blacksmith. He enjoyed woodworking, leatherworking, hunting, fishing, and golfing.

He graduated from White Hall High School in 1962 where he was a member of the (almost state championship-winning) basketball team. He joined the United States Navy in 1962 and managed not to step foot on a boat during his entire 20 years of service. He flew over seven thousand hours on the P-3C Orion aircraft hunting Russian submarines and retired as a Chief Aviation Antisubmarine Warfare Technician in 1982. After retiring from the Navy, he taught himself to program computers and built a handheld computer business serving the logging and lumber industry in 9 states.

John was a member of the Appalachian Blacksmith Association, New River Forge Council and PAADA.

In lieu of flowers, please consider a donation to the Appalachian Blacksmith Association for the John Brinson Scholarship Fund. The fund will be used to teach blacksmithing to young people. Donation checks can be made to the Appalachian Blacksmithing Association, c/o Jay Hayes, 100 Christmas Place, Weston, WV 26452. Please note "John Brinson Scholarship Fund" in the memo line.

A memorial service will be held at Stump Funeral Home, 1440 Arnoldsburg Rd., Arnoldsburg, on Wednesday, February 24, 2016 at 1:00 p.m. with Ed Eisley officiating. Friends may visit one hour prior to service. A covered dish dinner will immediately follow the service at the Senior Center in Minnora WV, 121 Milo Rd.