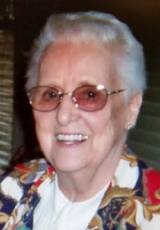 Phyllis Ruth Hanlin Butler, 90, of Normantown WV passed away on Friday, February 19, 2016 at Minnie Hamilton Health System, Grantsville WV.

She was born on August 5, 1925 in Elkview WV, a daughter of the late P.A. and Nellie Dye Hanlin.

She graduated from Tanner High School in 1943. She moved to Elyria in 1943, and married Waldo J. Butler in 1944. She graduated from Kent State University in 1968, and taught school in South Amherst and Crestwood School in Elyria. She retired from Crestwood in 1991.

Mrs. Butler was a lifetime member of the Ohio Retired Teachers Association and a member of the Lorain County Retired Teachers Association. She was also a member of The Church of the Open Door in Elyria.

Surviving are two sons, Larry G. Butler of Normantown and Kenneth L. Butler of Plymouth MI; two sisters, Fern Coberly, Glenview WV and Lois Phillips, Meridian ID; six grandchildren, ten great-grandchildren, six great-great-grandchildren, and many nephews and nieces.

In addition to her parents, she is preceded in death by her husband, Waldo J. Butler in 1976; a sister, Donna Whiting Glenville WV; four brothers, Bruce Hanlin, Edmond of OK, Paul Hanlin of Wellington OH, Carl Hanlin, New Orleans LA, and Dale Hanlin, Barberton OH.

Visitation was held at Stump Funeral Home, Arnoldsburg, WV on Sunday, February 21, 2016. Interment will be in Camden Cemetery, Kipton, Ohio.