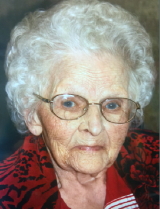 Nelle M. Jarvis, 98, of Ripley WV, formerly of Calhoun County, passed away at Ravenswood Care Center.

She was born February 26, 1917 in Calhoun County, a daughter of the late James L. and Alice Butler Siers.

She is survived by two daughters, Garnet Hersman of Ripley and Karen Flesher of Spencer WV; five grandchildren, Jeff Hersman, Eric Hersman, Deanna Cunningham, Chrissy Flesher, and Alison McCutcheon; seven great-grandchildren, Mikey Hersman, Josh Hersman, Ali Cunningham, Molli Cunningham, Sydni Cunningham, Chloe Rogers, and Colt Hersman; five great-great-grandchildren, Natalia, Annabelle, Haylee, Kylee, and Azaline Hersman.

In addition to her parents, she is preceded in death by her husband, Denver C. Jarvis; three children at birth; daughter Dolores Bias; four sisters; and three brothers.

Funeral services will be held at Stump Funeral Home, Arnoldsburg WV, on Tuesday, February 23, 2016 at 2:00 p.m. Visitation will be held one hour prior to service. Interment will be in Clark Jarvis Cemetery, Chloe WV.