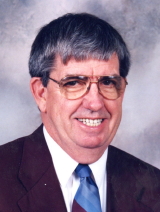 Robert Fred Radabaugh of Elkview, WV passed away Wednesday, February 17, 2016 at Ruby Memorial Hospital in Morgantown.

He was born August 30, 1930 at DeKalb in Gilmer County, WV, son of the late Oren and Evelyn Davis Radabaugh.

He married Willadean Clarkson of Spencer, WV, August 1958. Others surviving are sisters Mary Radabaugh and Doris Radabaugh of Parkersburg, WV; brother Roy and his wife Jane of Mineral Wells WV and Aunt Eloise Davis Warfield (103 years) of Fuquay-Verina, North Carolina. Nieces and nephews include, Craig, Marcia, Susan, Rodney, Dennis, James, Mary, Nancy, Edwin, John, Laura, Scott, Lisa, and Stacey. Several great and great-great nieces and nephews and fourteen first cousins.

Preceding him in death were a brother-in-law, Warren Williams Clarkson and his wife Louise, sister-in-law Mildred Clarkson Boggs and her husband Billy G. Boggs, and two nieces Anne Boggs and Rosemary Boggs Holbien.

A 1948 graduate of Tanner High School in Gilmer County, WV, he attended Glenville State College earning BA and BS Degrees. He received an MA Degree in Education Administration from West Virginia University.

Fred was a member of Saint Andrew Presbyterian Church in Elkview, WV.

Fred served 1953-1955 in the 8450th Military Police Group of the U.S. Army. Fred was a teacher, principal and central office administrator for Kanawha County Schools from 1956-1984. He was elected to the Kanawha County Board of Education in 1986 and served as president from 1990-1992.

Fred was the Executive Director of West Virginia Association of School Administrators 1993-2002. He held offices in Phi Delta Kappa, a professional association for educators. He was on the Board of Directors of the West Virginia School Employees Federal Credit Union. He held offices in the Elk Lions Club and the Optimist Club of West Charleston. At his alma mater, Glenville State College, he served as President of the Alumni Association, Board of Directors of the Foundation and member and Chairman of the Board of Governors. Fred served Tanner High School Alumni Association as an officer for many years. He was instrumental in the restoration of several cemeteries in Gilmer County. He served as Treasurer of Pisgah Cemetery Fund and First Vice president of Job's Temple Association. Fred was involved in honoring one-room school educators in Gilmer County at Cedar Creek State Park.

Fred enjoyed spending time and hosting gatherings of family and friends at The Farm on Lower Cedar Creek in Gilmer County, WV.

Service will be 4:00 pm Monday, February 22, 2016 at the Hafer Funeral Home, Elkview, WV with Rev. James A. Walther officiating. Visitation will be two hours prior to the service. There will also be a visitation 2-4 pm Sunday, February 21, 2016 at Hafer Funeral Home.

Additional services will be at the Ellyson Mortuary in Glenville, WV at 4:00pm Tuesday, February 23, 2016. Visitation will be from 1:00 pm - 4:00 pm with Pastor Bryan Groves officiating immediately following at 4pm. A private interment will be at Pisgah Church Cemetery at DeKalb, WV.

Memorial gifts may be made to, Saint Andrew Presbyterian Church, P.O. Box 868 Pinch, WV 25156; Tanner High School Alumni Association Scholarship Fund, PO Box 12, Glenville, WV 26351 and Glenville State College Foundation, 200 High Street, Glenville, WV 26351.