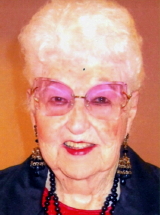 Helen Radcliff James age 93 of Glenville, West Virginia, departed this life at 10:05 p.m. Sunday February 7, 2016 in Morgantown, West Virginia, following an extended illness.

Born December 25, 1922 in Gilmer County, Helen was the daughter of the late W. J. 'Barney' and Ethel Canfield Radcliff.

Helen was a graduate of Sand Fork High School, class of 1941. She was also a graduate of Glenville State College, class of 1944 with a degree in education. Helen was a retired school teacher with 35 years of service to Gilmer County Schools. She started her career in 1944 when she would travel by horseback to a one-room school near her home on Ellis.

Her list of awards, recognitions, and various civic duties include; Glenville State College Alumna of the year award for community service, Recipient of the West Virginia Eleanor Roosevelt Award (aka Outstanding Democrat Woman), West Virginia Women's Democrat Hall of Fame Recipient, Gilmer County Democrat of the Year, Senator in the Silver Hair Legislature where she is a former President of the Senate, Sand Fork High Alumna of the Year, Former Gilmer County Belle at the West Virginia State Folk Festival where her mother was a Belle before her and she could still wear her mother's dresses from that era, Rotary Club's Service Above Self Award, Outstanding Senior Citizen of the Year, and Friend of 4H Award, President of the Gilmer County Senior Center Board (1997-September 30, 2015), Board of Directors - Central Area Agency, Women's Club of Glenville, Gilmer County Cancer Society, Gilmer County Red Hats, Gilmer County Democrat Women, First Baptist Church Women's Circle, Baldwin CEOs, West Virginia Folk Festival Belle Committee, GSC Alumni Association, Sand Fork High School Alumni Association, Gilmer County Retired School Employees, West Virginia Professional Educators, and Friends of Gilmer Public Library, Former Member of West Virginia Education Association, Former Member of the Library Board (25 years), Former 4-H Leader, Former Band Booster, and Former Member American Association of University Women.

She was presented with a 'Key to the City' of Glenville in honor of her milestone 90th birthday (2012) as well as in recognition of her many years of service to the Glenville community. She was huge supporter of the Gilmer County Senior Citizen Center, where she attended functions on a daily basis. Helen was a strong willed democrat and sold jewelry for the Gilmer County Democrat Women's Club. She was also the Gilmer County Senior Center's representative for the AAA (Area Agency on Aging).

In her spare time, Helen enjoyed spending time with family and friends, shopping, going out to eat, traveling, and being involved in the community.

On June 27, 1953, Helen was united in marriage to former Sheriff and Gilmer County Commissioner Clark R. James, who preceded her in death on December 22, 2004.

Surviving is 1 son, Gregory C. James of Glenville, West Virginia, who is the Band Director of Richwood High School. Also surviving are several nieces and nephews.

Along with her parents and husband, Helen was preceded in death by 6 sisters, Pauline Batton, Lucile Westfall, Lourene Woodard, Agnis Sumpter, Ethel Mae Gainer, and Juanita Bokanyi.

Funeral Services will be conducted at the Ellyson Mortuary Inc. 2 Vanhorn Drive, Glenville, WV at 1:00 p.m. Monday, February 15, 2016 with Pastor Bryan Groves and Rev. Kenny Fisher officiating. Burial will follow in the Meadow Lane Cemetery in Glenville. Friends will be received from 3-8 p.m. Sunday evening at the mortuary.

Ellyson Mortuary Inc. is honored to assist the family of Helen Radcliff James with arrangements.