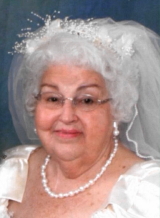 Louise Wiseman Villers, 83 years of age, departed this life January 25, 2016 at her parsonage residence at Handley, West Virginia.

She was born in Irvine Kentucky on May 21, 1932, a daughter of the late Arch and Lulu Wiseman.

She is survived by her husband of 53 years, Lewis Villers, a daughter Ladonna (Tim) Hayes of Elizabeth WV; and a son Jonathan (Koreen) Villers of Philippi WV; a sister, Wilma Wiseman Horn of Irvine KY; a brother, Arthur (Jeannie) Wiseman of Lexington KY; 6 grandchildren, Chasity (Kevin) Sions of Kingwood WV, Kayla (Dustin Amerson of Grand Rapids MI, Caleb Villers, Allison Villers, Thomas Villers, and Bobby Villers of Philippi; and 6 great-grandchildren, Miriam Sions, Hannah Sions, Eli Sions of Kingwood; Colton Amerson, Layne Amerson, and Lysle Amerson of Grand Rapids, and several other "adopted" children, grandchildren, and great grandchildren that called her "Mom" and "Mama".

She was preceded in death by one brother, Russell (Pat) Wiseman on April 12, 2012, of Irvine KY.

She was first introduced to Jesus as her parents, Arch and Lula Wiseman, took her to church since before she was born to the First Church of God, Irvine, KY. She was a graduate of Irvine High SchooI, Irvine, KY and she attended 3 semesters of education at the Anderson Indiana Church of God College. She was employed by the Wirt County Board of Education at Elizabeth, WV as a teacher's aide for 33 years, and was a public assistance worker for the Kentucky Department of Welfare in the 1960's.

Louise assisted her husband in their American Baptist Ministries at Greenbrier Baptist Church in Wagersville, KY, Adda Baptist Church, Hurricane, WV, Rush Run Baptist Church, Stumptown, WV, Strait Creek Baptist Church, Brohard, WV, Mt. William Baptist Church, Blue Goose, WV, Two Ripple Baptist Church, Elizabeth, WV and presently at Handley Baptist Church, Handley, WV. Louise will be greatly missed by all who had come to know her as a most gracious and loving friend and follower of Jesus Christ.

A funeral service will be held at 7:00 p.m. Thursday, January 28, 2016 at O'Dell Funeral Home, Montgomery with Rev. Chester Bird, Rev. Alfred Boyd, Rev. James Baldwin and Rev. Philip Walton officiating.

Friends may call from 5:00 to 7:00 p.m. at the funeral home on Thursday. An additional funeral service will be held at 1:00 p.m. on Saturday, January 30, 2015 at Stump Funeral Home, Grantsville, WV with Rev. John Vannoy officiating. Burial will follow in the Villers Family Cemetery at Little Creek in Calhoun County. Friends may call at Stump Funeral Home, Grantsville, from 6:00 to 8:00 p.m. on Friday, Jan. 29 and also from 11:00 until time of service on Saturday.