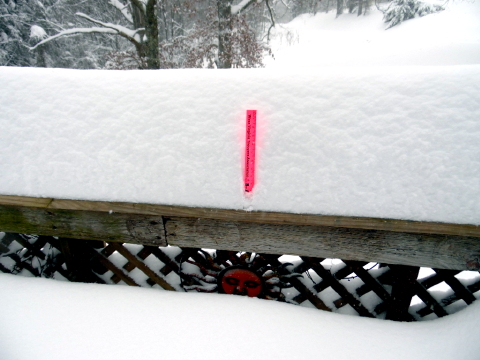 IT'S HUNKERIN' DOWN TIME/Jan., 2016
By Bob Weaver
It's been a while since 18" of snow fell on the Village of Hur, the snow is still coming down at 10 a.m. Saturday, the grand total yet to be determined.
Likely the last time a heavy snowfall was likely the winter of 1995-96.
Snow is expected to end Saturday afternoon.
Fortunately, since the storm started before noon Friday, the wind has not been a problem in Calhoun.
It is going to get really cold, Saturday night and Sunday night 10-13 degrees,.
While there have been some scattered power outages in the region, so far things are juiced up around here.
There was a power outage early AM Saturday on Jesses Run, but power was restored by noon Saturday.
There have been few reports of problems in the county, Calhoun 911 has been quiet, except one ambulance call Saturday morning from Crummies Creek to Roane General. The ambulance driveway had to be plowed for the ambulance to exit at Millstone, and the WVDH had to open up Crummies Creek.
The highway department is focusing on the main highways, our cat disappeared under the snow as it tried to get across the road, and quickly returned to the house.
Secondary roads remained hazardous Saturday evening.
The satellite service for Internet went out yesterday evening and we are now relying on intermittent "high speed" from Frontier.
Reports say that in WVs high mountains snow is 30" deep.