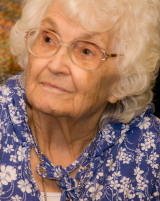 E. Geraldine Jamison Boggs, 91, of St. Marys, WV formerly of Sutton went to be with the Lord on January 14, 2016 at her residence.

She was born September 10, 1924 in Sutton to the late Earl and Bertha Jamison. Also preceding her in death was her husband of 64 years, Virgil I. Boggs, as well as 2 sisters and 2 brothers.

Geraldine was a member of Temple Baptist Church of Greensburg, OH, but attended Cow Creek Methodist Church ...of St. Marys, WV. She loved God, her family, watching birds, gardening and a good game of dominoes. She was one of the original "Rosie the Riveters".

She leaves behind her big loving family, 7 children, Dianne (Stan) Texter of Akron OH, Janice (Steve) Hughes of Frametown WV, Sharlene Heiney of Grantsville WV, Donna (Mike) Bunner of St. Marys, Wayne (Carla) Boggs of Akron OH, Dwight Boggs of North Port FL, Duane Boggs of St. Marys; 18 grandchildren; 17 great-grandchildren; 11 step grandchildren, as well as several nieces and nephews.

Funeral services will be held 1:00 pm Saturday January 16, 2016 at Greene-Robertson Funeral Home, Sutton with Pastor David Chapman officiating.

Burial will follow at Bug Ridge Community Cemetery, near Sutton. Friends may call two hours prior the service at the funeral home. Greene-Robertson Funeral Home.