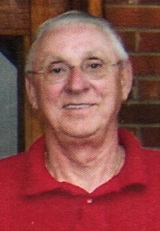 Andrew Jarrett (Jerry) Nichols Jr., 77, of Spencer, WV, passed away January 10, 2016, after a long battle with cancer.

Jerry was born August 22, 1938, the son of the late Jarrett and Jane Straight Nichols. He was an active member of the Steer Creek Church of Christ in Stumptown, WV.

Jerry is survived by his wife of 57 years, Evelyn; one son Danny (Tammy) Nichols of Lancaster, KY; one daughter, Vicky (Edward) Moore of Spencer. He had four grandsons, Jarrett and Robert Nichols of Lancaster, Kentucky, and Christopher and Matthew Moore of Spencer; three brothers, David, Kenny and Pete Nichols, all of Spencer.

In addition to his parents, he was preceded in death by one brother, William Dexter Nichols; and his sister, Alice Matics.

Jerry was retired from Spencer Appliance, which he owned from 1976 to 2000. He enjoyed boating, fishing, and car collecting with his grandsons. Jerry also loved spending time with his church family, especially the children who were a bright spot in his life during his illness.

At Jerry's request, there will be a graveside service with Pastor Gene Miller and Brett Miller at 1:00 p.m. Wednesday January 13, at Eventide Cemetery, Spencer, WV.

TAYLOR-VANDALE FUNERAL HOME, Spencer, is in charge of arrangements for the Nichols family. There will be no service or visitation at the funeral home.