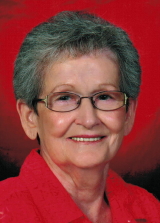 Stella Brunty DePue, 76 of Elizabeth, West Virginia, passed away at home surrounded by her family December 4, 2015.

She was born in Williamson WV January 9, 1939 to the late Edgar and Delsie Brunty.

She was a 1956 graduate of Belfry High School in Belfry KY. She worked in Williamson as an Assistant CPA. She was Assistant Magistrate in Wirt County, and was owner of the Chic Center and co-owner of J and S Auto with her husband in Elizabeth. She retired as Deputy Assessor of Wirt County in December 2000.

She was a member of the Eastern Star #113, the Daughter of the Nile and was member of the Red Hat Society.

She is survived by her husband of 55 years Jack D. DePue; three daughters, Teresa and Sheila DePue of Belpre OH, and Jackie (Scott) Bunch of Creston WV; six granddaughters, Ashley (Jeremy) Bumgarner of Elizabeth, Sydney and Lakyn Summers and Skylar Bunch of Creston, Katelyn Bunch of Elizabeth, Brandy (Cody) Ferguson of Valdosta GA; one great granddaughter, Rylee Jo Hall of Elizabeth; brothers and sisters, Elton Brunty, Noah (Martha) Brunty of Myrtle Beach SC, Mary Jane Cleghan of Elizabeth, Becky Stacy of Circleville OH; sisters-in-law, Marcia Brunty of Union KY and Mary Brunty of Dayton OH; several nieces and nephews.

In addition to her parents she is preceded in death by her brothers, Hansford (Bud) Brunty and Kenny Brunty; sisters, Delores Sartain and Linda Scott; brother-in-law, Tom Cleghan; and nephew, Tommy Cleghan.

Services will be 1:00 p.m. Tuesday, December 8, 2015 at Matheny Whited Funeral Home with the Rev. Casey Stinespring officiating. Visitation will be Monday December 7, 2015 2-4 and 6-8. An Easter Star service will be at 7:00 p.m. Monday by Eastern Star #113 of Elizabeth. Interment will be at DePue Cemetery of Creston WV.

The family would like to give a special thanks to Dr. Olsen, Dr. Nic Shah and Staff, Hospice and Comfort Keepers for all their care.