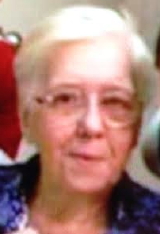 Ella Mae Kendall, 79, of Parkersburg, WV, formerly of Calhoun County, passed away on Wednesday, December 2, 2015 at Eagle Pointe Nursing Home, Parkersburg, WV.

She was born in Gilmer County on May 8, 1936, a daughter of the late James Loyd and Amanda Hughes Bennett. She loved the outdoors, gardening and her animals. She was a loving mother and grandmother who will be greatly missed.

She is survived by son Dale (Regina) Kendall of Parkersburg WV; two grandchildren, Barb and Richard; 3 great-grandchildren of Parkersburg; sister, Emma Jean Barker of Toledo, Ohio; several nieces and nephews; and close family friends, Justin Wood and Abby.

In addition to her parents, she was preceded in death by husband, Virgil (Budge) Kendall; brother, Junior Bennett.

Funeral services will be held at Stump Funeral Home, Grantsville, WV, on Monday, December 7, 2015 at 6:30 p.m. with Rev. John Vannoy officiating. Visitation will be held 5:00-6:30 p.m. prior to service. Interment will be in Sand Ridge Cemetery.