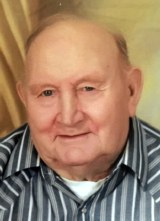 Leon (Tiny) Hugh Smith, 79, of Beech Rd., Orma, WV passed away on Tuesday, December 1, 2015 surrounded by his family at Charleston Area Medical Center-Memorial.

He was born on Beech Rd., July 31, 1936, a son of the late Okey and Lettie Price Smith. He worked in the oil field, as a carpenter, and as a pipeliner.

He is survived by his wife of 56 years, Nola Pearl Jett Smith. He was the loving father of seven children, Sandy (Edward) Burrows of Mt. Zion WV, Gilbert (Linda) Smith of Gandeeville WV, Joyce Smith of Grantsville WV, Sherry (Dave) Burgess of Reedy WV, Sheila (Stanley) Hall of Arnoldsburg WV, Judy (Carl) Brannon of Grantsville, and Teresa (Phillip) Holcomb of Spencer WV; 15 grandchildren and 14 great-grandchildren.

In addition to his parents, he was preceded in death by two brothers, Robert Smith and Albert Smith and one grandson, Randy Brannon.

Funeral services will be held at Stump Funeral Home, Arnoldsburg, WV, on Saturday, December 5, 2015 at 1:00 p.m. with Rev. Carl Marks officiating. Visitation will be held two hour prior to service. Interment will be in Bailey Cemetery, Beech Rd.