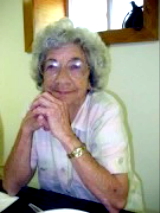 Ernestine "Toots" Blankenship, 87, resident of Parkersburg, W.Va., formerly of Grantsville, passed away November 27, 2015 at the Camden Clark Hospital in Parkersburg following a brief illness.

Ernestine was born on October 22, 1928, in Calhoun County, West Virginia, a daughter of the late Gladys Gainer Bower and granddaughter of Okey and Esther Gainer.

She retired from B.F. Goodrich of Grantsville, West Virginia after thirty years of dedicated service. Ernestine also worked for the Foster Grandparent program in Calhoun County Schools for eight years and in Wood County Schools for five years.

Following retirement, she spent time traveling, gardening and canning everything she harvested. Ernestine loved the outdoors where she enjoyed hunting, fishing and camping.

She was a member of Cornerstone Praise and Worship Church in Grantsville and also attended the Landmark Baptist Church in Parkersburg, W. Va.

Ernestine was preceded in death by her husband Ralph Blankenship. She is survived by her son, Ronald (Jackie) Blankenship, daughter, Gail (Johnny) Bowe, brother, Morris (Evelyn) Bower and sister, Delma (Steve) Atkinson.

In addition, she is survived by five grandchildren; Scott (Kathy) Farrar, Paige (Bryan) Toney, Cam Blankenship, Amanda (Darin) Childress and Jennifer Bowe. She is also survived by twelve great grandchildren; Veronica, Hallie, Anna, Bradyn, Kameryn, Chace, Cohen, Camden, Maleigha, Jadalyn, Rhett and Billy.

A memorial service will be conducted on Thursday, December 3, 2015 at the Stump Funeral Home in Grantsville with Pastor Kevin Church officiating. Friends may call at 6:00 p.m., followed by the memorial service at 7:00 p.m.

Memorial donations may be made to the Building Fund of the Cornerstone Church in "Toots" name. The address is Cornerstone Praise and Worship Church, P.O. Box 402, Grantsville, W.Va. Please note 'In memory of Toots' at the bottom of the donation.