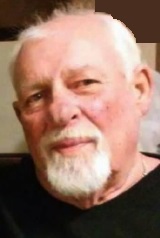 Richard "Dick" Lee Stanley 64, of Elizabeth WV passed away November 22, 2015 at University of Kentucky, Gill Heart Institute after an extended illness, surrounded by family and special friends.

Dick was born August 17, 1951 the son of Ray Stanley and the late Eleanore Stanley.

He was a 1969 graduate of Wirt County High School. He served in the United States Marines, and was employed by Affordable Asphalt Maintenance of Parkersburg WV.

Dick was known for his unique sense of humor, he enjoyed making others laugh. He loved music, Bluegrass, The Blues, Merle Haggard and Hank Williams. Most of all Dick loved being with his many friends that he has made over the years.

He is survived by his father; 1 daughter, Renee Stanley of Spring Valley CA; 3 brothers, Tim (Julie) Stanley of Elizabeth, Troy Stanley of Wilson NC and Jerry (Becky) Stanley of Parkersburg WV; several nieces and nephews.

Full Military Graveside Services will be held at 2:00 p.m. December 12, 2015 at K of P Cemetery of Elizabeth WV, by American Legion Post #15 of Parkersburg WV.

Matheny Whited Funeral Home of Elizabeth WV has been honored to serve the Stanley family.