Bob "The Toe" Huffman, a Calhoun Red Devil's extra points kicker made national magazines regarding his talent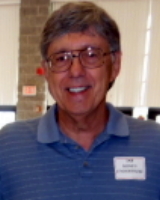 By Sidney Underwood
This is a true story about a football equipment manager and water boy who kicked extra points for the Calhoun High School Red Devil football team during the 1952 season.
This story is rather unique and the subject of the story, Robert Huffman, accomplished something that had never been done before and, to my knowledge, never attempted again in any high school in West Virginia or any other state.
I am grateful for the assistance of Fred Lowe and Pat Fetty for sharing their memories of that time so long ago as they were teammates with Huffman during that 1952 season. As seniors, they all graduated together as part of the class of 1953.
If one checks the records of Calhoun High football games won in the early 1950's, it will be noted that some victories often occurred by the margin of only one point. That one point which was so crucial quite often resulted from Huffman's special skill.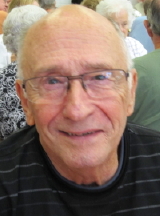 It seems rather quaint now to think about a time when a water boy ran on the field during a timeout carrying a bucket of water and a long handled metal dipper.
Bob Huffman (left) did that without spilling a drop, which was not an easy thing to do. Now a days, players gravitate to the sideline during timeouts and someone squirts water into their mouths with a squeeze type plastic bottle. That is progress, I suppose, more hygienically correct, but requiring less skill.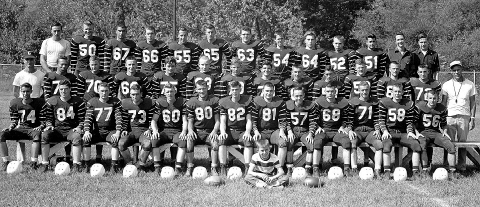 CHS 1952 Red Devil Football Team: First row, left to right: Fred Lowe, Bob Williams, Larry Stutler, James Reed, Carl Cox, Donzil Price, Ronzel Laughlin, Don Whipkey, Donald Hathaway, Ray Miller, Delano McCartney, Bob Sturms, Pat Fetty; Second row: Coach Nick Murin, Bernard Williams, Denzil Fredrick, Ronzel Hardman, Bill Shock, Lee Johnson, Deon Sturms, Voras Haynes, James Brown, James Nichols, Bob Bailess, James Riddel, Bob Berdine, Head Coach Wayne Underwood; Third row: Manager Gayford Williams, Dorsey Starcher, John Powell, Loy Weekley, Ralph Cunningham, Blaine Dye, Jeffie Elliott, Jennings Gainer, Howard Wilson, Bill Richards, Donald Kendall, Bob Huffman, Manager Charles Hathaway; Sitting in front: Manager James Knotts.(Photo Courtesy of Sidney Underwood)
Yes, Bob carried the water bucket, but he was so much more than that. In addition to replacing and tightening cleats, airing up the footballs, replacing torn shoe laces, taping ankles and attending to cuts by applying the dreaded stinging methylate that made every one howl in pain, he also found time to kick extra points for the Red Devils.
It should be understood that sometimes Bob was called upon to kick and other times Calhoun ran or passed for that extra point especially if the offense was in sync and rapidly moving the ball downfield.
It was not like he came on the field each time Calhoun scored a touchdown. If he had, his record would have been much more impressive.
According to Fred Lowe, Huffman's story began during that August training camp of 1952. There were times when Bob had free moments with nothing to do. He went to the far end of the field away from the players and coaches.
There, he asked some kid to hold the ball on a tee while he practiced kicking in the straight-away style that was prevalent at the time. He kicked for several days and no one seemed to notice. About the third day, one of the coaches, probably my Dad, watched from a distance and realized that Bob was becoming proficient in kicking through the uprights often sending the ball over the fence into School Street beyond the dressing room. The story goes that practice was halted and everyone congregated around Bob to watch him perform.
Six or seven footballs were placed on the ground and Pat Fetty, the single wing fullback who had the required good hands, was selected to hold the ball on the tee.
Huffman proceeded to make successful kicks until he ran out of footballs.
The coaches wondered how good Bob could be if he had a regulation square toed kicking shoe since he was doing so well with the round toe shoes that he was wearing.
It was decided a pair of kicking shoes would be ordered for Huffman that same afternoon.
The coaches and players were excited about Bob's new found skill, but one thorny issue remained. Would the SSAC approve Bob's participation on the field?
If he was approved, would he have to wear a complete uniform? Could he be an equipment manager/water boy and player all at the same time?
When contacted, the SSAC stated that this was a highly unusual situation that they had not encountered before. They were understandably concerned with safety issues.
They inquired about his age and other eligibility issues such as good standing in school. The answers to those questions were all positive.
After a period of deliberation, the coaches were informed that Huffman would be considered as a member of the team and he could perform all duties including being the team kicker.
However, that approval came with certain restrictions: When on the field, he had to wear a team jersey with an assigned number. He must wear a regulation team helmet, and football kicking shoes, otherwise, he would be allowed to wear his street clothes.
The 1952 season began and Calhoun was largely successful.
When called on to kick extra points, Huffman would trot onto the field to the cheering of the hometown crowd. When kicking on opponent's fields, he would be met with utter silence as the crowd watched in amazement and disbelief as this half-dressed player wearing blue jeans reported for duty.
In a very short time, Huffman became a local celebrity. Soon the Parkersburg newspapers picked up the story of the "Water Boy Kicker." It was only a matter of time until the wire services picked it up and the nation, if they read the sports section, also learned of "The Water Boy Kicker."
Bob had a record going of about 8 or 9 successful kicks without a miss, but the first one happened against Harrisville, according to Fred Lowe. This would have been the 6th or 7th game of the season.
Fred remembers Calhoun scoring a touchdown and Bob trotting onto the field for the point after. The kicking team lined up, the ball was snapped and the kick was good. Fred saw a yellow flag on the field and an official pointing at him. Fred was called for holding, the point was disallowed and the team assessed a 15 yard penalty.
The kick sailed wide bringing Bob's streak to a halt. Fred, like everybody else in life, has some regrets. That holding penalty is one that he still remembers after all these years.
Pat Fetty was the starting fullback on that 52 team. He received the snap on virtually every play in the unbalanced line single wing offense.
It was natural for him to be the holder for the point after. Fetty was the last player that I remember who was allowed to select the plays on the field because he was so attuned to the here and now of the game. The coaches had that kind of confidence in his ability. Occasionally they would send in a play if a special situation arose, but mainly relied on Fetty's decision making.
Fetty told me that after a touchdown was scored, he would look to the sideline and if he saw Bob trotting toward him, he would prepare the team for the kick formation.
If Bob stayed on the sideline, Fetty would call a pass or run play for the extra point.
Pat remembers Bob Huffman's first miss differently from what Fred described. Not so surprising since those games were played 63 years ago.
In Fetty's version, Calhoun had a big lead in the second half of a game not necessarily against Harrisville.
Calhoun's second stringers were on the field and playing well. After a touchdown, the reserve fullback received the snap and the kick was wide. Fetty is confident that if he had been on the field to receive that snap, the kick would have been good.
There is absolutely no doubt in my mind that both situations did occur during that 52 season. Obviously, one of those missed kicks occurred first, but both actually happened as described during the season.
Huffman's teammates were so proud of him and so pleased in the way he handled his new found fame.
Both Fetty and Lowe believe that Huffman's first miss that ended the string somewhat affected his confidence. Thereafter, he made about 70% of his kicks.
Looking back now, it can be assumed that Huffman would have had an even better percentage if he had attempted all extra points.
But, standing on the sideline until the last quarter and coming onto the field cold to attempt a kick after a period of inactivity would lessen his chances of being successful.
There has to be a chemistry between the holder and kicker.
Huffman remembered a missed extra point that resulted from when they could not find the kicking tee which is a hard flat square chunk of rubber. So they had to use the kick-off tee which had two little prongs on it.
Coach Underwood used his pocket knife to cut off the prongs and send it in to the holder. It was a delayed screwed up mess and Huffman missed that extra point.
After all these years, Huffman thinks it was so funny with everyone frantically searching for the correct tee and having no option but to cut the other one.
Evidently Huffman and Fetty had that special bond and were confident in each other's ability. Place kicking is half physical and half mental and we have all seen instances where the defense calls a quick timeout to attempt to "Ice" the kicker.
Everything needs to be perfect or nearly so. The snap from center has to be true, the holder must secure the ball, place it on the tee, spin the laces away and hold it at the correct angle. Mind you, all this takes place in less than two seconds.
This procedure must be the same during ideal conditions and less than ideal conditions during rain, snow and numbing cold. And there is tremendous responsibility placed on the holder to quickly place the ball just right because any deviation will cause a miss. From the kicker's perspective, it is muscle memory like shooting basketball free throws.
Believe me, it is not nearly as simple as it looks.
As a coach's son, I have been fortunate to witness many Red Devil football games over the years and I remember many of those players who excelled on the playing fields. However, during that 52 season in which the three individuals named above played so well, I was quite often to be found behind the bleachers with other 10 year old kids playing pickup football.
But at home on Hardman Alley after the games, I remember Dad talking about how well certain players performed. I would hear him say that Lowe made several timely catches that resulted in needed first downs and how well he blocked.
He always thought of Fred as a natural all-around athlete.
Also, Dad would mention that he could always depend on Fetty to play hard even when he was hurting. Several times he said he had asked Fetty to come out of a game for a breather and get a cut bandaged, but Fetty always refused unless the team had a substantial lead. Dad would often say that Fetty was "tough as a pine knot."
When Bob Huffman was the "Water Boy Kicker," his family lived up Leaf Bank just below Grantsville off State Rt# 5. His parents and grandparents ran a dairy farm. Fetty told me that he spent several nights with Bob at the Huffman residence.
Fetty was surprised to learn that some family members arose at 3:00am to start milking cows. Bob was allowed to sleep somewhat longer, but had to get up in time to deliver milk in Grantsville before school started.
He then drove the delivery truck on to high school after making the deliveries. In those days, it was a big deal to drive yourself to school. Bob did it by necessity.
Bob's parents were Hunter and Beulah Huffman. He has a sister, Sandra, and two brothers, Ronnie and Roger.
After graduating from High School, Bob served in the US Army. Later, he migrated to Orrville, Ohio and went to work for a telephone company. He is retired and now resides in Wooster, Ohio. He has attended several All Class Reunions in recent years.
So here's the ode to "The Toe."