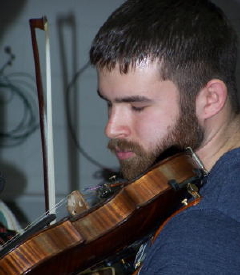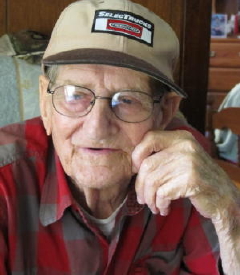 Calhoun fiddlers Jake Krack (left) and the
late Lester McCumbers (Hur Herald Photos)
Passing Along the Art Of Appalachian Fiddling
By Francis X. Cline - NY Times 1999
NICUT, W. Va. - The mountain-hollow art of old-time Appalachian fiddling, long withering under the pressures of youthful emigration and homogenized broadcast entertainment, is hanging on by a few well-bowed strings here in a backwoods master-apprentice program.
Toe-tapping in syncopation, his right wrist snapping off bow movements the way other lads ply a curve ball, 14-year-old Jake Krack followed his master, 78-year-old Lester McCumber, through the popping, tuneful intricacies of ''Ida Red.''
The lustrous, haunting scrape of the music drifted out toward the surrounding forest this evening, the sound wreathing the simple McCumber household as pungently as autumnal chimney smoke.
The two were jamming, by the boy's terminology, or just fiddling, by that of his lean and craggy master. But the music -- part of an ever-fading pre-Colonial Appalachian canon rarely written down and ''played by air,'' as the teacher tells his pupil -- was assuredly alive and well.
''Now that's the original way of playing 'Ida Red,' the way the old man who lived down the road -- Senate Cottrell was his name -- played it,'' the master instructed, suddenly looking back on his own young tutelage by a departed local legend.
In the gifted hands of Jake, the fiddling arts of Mr. McCumber -- and of Mr. Cottrell, the fiddler French Carpenter and sundry masters before -- now promises to outlive them all through a new generation.
''I'm just having fun,'' Jake said, at a pause in the bowing. ''Aside from that, my main concern is to carry on this music into the future. That's my passion: to pass it forward. Lester always says there's no charge for the lessons, just pass it on.''